'What are you looking at?' enquires the boyfriend, innocently enough. And, like a woman from the telly ad for cheap hotel stays, I slam the laptop lid firmly shut and trill brightly,'Nothing, darling!' But his knowingly raised eyebrows tell me he's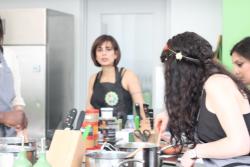 got my number:  covert food porn addict with long list of repeat offenses.'Honest.' I insist.'It's Pukka'.
And on this occasion, it is- in name, at least. Sumayya Jamil, the self-styled Pukka Paki, does have a pretty pleasurable website, full of gloriously mashed-up, hybrid recipes all showing the girl knows flavour. And how to add an inimitable Pakistani twist. The moniker may raise another few eyebrows heavenwards, but Sumayya's keen to demonstrate she's a proud patriot, and that her native cuisine is very distinct from the Indian and Bangladeshi dishes most Brits are so familiar with.
So I'm most pleased to be attending a class on Pakistani puds and savoury snacks, even if it does find me sweating into a pan full of boiling dulce de leche barfi on a roasting day. Thankfully Sumayya's simplified method does away with hours of reducing milk to the sticky, dough-like khoya, but it's still hot work. When it all comes together in a rich, chewy ball, even the prospect of a burnt tongue doesn't deter me from a large mouthful straight out of the pan. Yum. And ouch.
Next up is firni- a smooth ground rice pudding, a lovely treat traditionally served well-chilled in diminutive unglazed terracotta dishes. In this slightly unconventional version, ricotta adds a similar grainy, lactic note to paneer or the chenna common in Bengali sweets. The apple compote we blob generously on the top nods to the fruit so popular in Kashmir, and the whole thing glows with a golden hue from the saffron the same state is famed for.
Rainbow zarda is a deceptive dish- an unusual Persian-influenced sweet pilau loaded with dangerous quantities  of nuts, candied fruit and coconut. The mere fact it's a dry rice preparation makes it all-too easy to accidentally scarf it down feeling like it's a main meal rather than a pud as rich as the emperors who used it to demonstrate their wealth. Thankfully, there are no fabled magic re-filling rice pots here – pretty soon, our spoons are scraping the bottom of bowls for the last errant grains.
After all that sweetness, something intensely savoury is in order, and Sumayya whips up a gram flour-based pakora batter,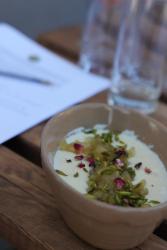 dredging okra and aubergine slices before deep frying. Next, we steady our saccharine-shaky fingers to fold samosa wrappers around a pomegranate, chilli and ricotta filling spiced with cumin and coriander, not dissimilar to Ottoman-style cheese boreks. Clocking our shiny faces and sugar-glazed expressions, the Pukka Paki takes over the cooking and despatches us garden-wards.
Outside, there's a clamour over the Pakistani-twisted cocktails that threatens to turn violent. But soon, we're all merrily glugging back tamarind and jaggery martinis and gin-based guava and lychee coolers, delving into the growing heaps of fresh-fried pakoras and baked samosas, swiping both through Sumayya's super-speedy tamarind chutney. The fresh air having given us a second wind, the now ice-cold firni is as welcome as a Mr Whippy- but much, much satisfying.
Showing noble regard for her charges' health, Sumayya's packed our barfi into takeaway boxes- but it's not long before fingers are sneaking under the foil lids. The small class size and collective interest in Pakistani cuisine means we linger discussing regional food variations, lavish wedding ceremonies, and the new practice of using Smarties to sweeten newly-weds mouths rather than traditional mithai. A crying shame, I opine, nibbling another piece of barfi thoughtfully. They should get Sumayya doing the catering to nip that one in the bud for good.
Sumayya will be appearing on Madhur Jaffrey's'Curry Nation' and on ITV's'Cook Me The Money' this Autumn. For all recipe and cooking class info, visit www.pukkapaki.com or follow @PukkaPaki on Twitter.