Cinnamon Culture, 46 Plaistow Lane, Bromley, Greater London BR1 3PA,  www.cinnamonculture.com
Light, airy, elegant… Not words you commonly associate with an Indian restaurant. Rarely fitting epithets for the way you feel post-curry, either. But then, Manpreet Dhingra aimed to open a venue anything but common and, with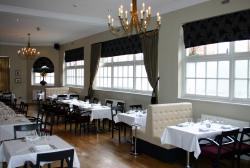 Cinnamon Culture, the man is right on the money.
Housed in a former Bromley boozer, Cinnamon Culture's bar still offers tired commuters and leisurely weekenders a place to gossip and graze, with a decent list of spirits- heavy on the whisky, as is the Indian predilection, skilfully crafted cocktails and bar snacks like spiced whitebait or grilled paneer- a cut above the ubiquitous peanuts of dubious provenance.
Provenance is clearly important, with the diverse menu rolling with the seasons and showcasing unusual ingredients like buffalo meat. The restaurant used to use ostrich, too, but Manpreet explains it's been hard to come by since bird flu. No matter – goat vindaloo is a tasty option for carnivorous types, served with a crystal decanter of garlic vinegar and, despite a companion's fears, authentically rich with cloves and cinnamon rather than searing hot.
In fact, if you're game, there's plenty in that vein, from Chettinad-style pheasant tikka to rabbit shami kebabs. But the food's just part of the reason for trekking to deepest Saaarf Landaan – indeed, pretty much crossing the border into Kent. Workaday curryhouse just wouldn't justify the trip- but Cinnamon Culture delivers the full classy decor/service-with-high-style package, stacking up the fine dining credentials alongside local French and Italian 'faine daining' enterprises.
It's good – and rather infrequent – to see an Indian restaurant confidently placing itself alongside European-style peers, commanding similar prices and offering modern takes on classic regional cuisine without veering into cringeworthy'novelty' territory. Again, Dhingra has succeeded. Papdi chat is re-imagined using sweet potato, served prettily in an oversized papdi'bowl' and decorated with all the necessary chutneys; neat discs of paneer sandwich raw papaya chutney.
Seafood is another lure, an amoeba-like tangle of fried pastry shreds encasing impossibly sweet, tender scallops with grape and tamarind chutney. A seabass main is lightly cloaked in a creamy lemon and coriander sauce, the well-cooked fillets perching atop a mound of tasty broad bean kedgeree. Dishes are served with well-considered accompaniments, but a few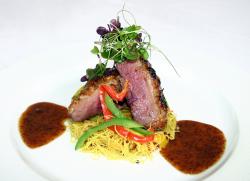 side veggies, like the crunchy green bean foogath, are irresistible.
As we daintily nibble, a background soundtrack of piped jazz tinkles away – and, one Sunday a month, Cinnamon Culture holds a live jazz brunch buffet, worth a languid linger whilst you sup a pear & cardamom sidecar or a refreshing'Saffron Garden' cocktail. Whenever you visit, don't skip pud – the quality's maintained with the coconut brulee or gooey cumin-spiked chocolate fondant.
And that's just it – Cinnamon Culture manages to sustain the'high-end' offering across the board, bringing Indian fine dining bang up-to-date without compromising authenticity- a goal currently achieved by woefully few restaurants throughout the capital- and indeed, the wider UK. Cinnamon Culture is a much welcome inclusion to the noble few ramping Indian cuisine up to the level at which it rightfully belongs. Namaste, guys, and cheers – see you at the bar!