www.disappearingdiningclub.co.uk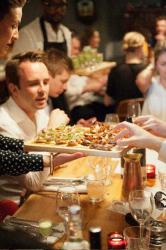 I thought I'd wait a bit before writing this up, to see if it's true to its word. But Disappearing Dining Club in Shoreditch's Brick Lane seems to be staying a while. Its newish venture, Back in 5 Minutes, a restaurant and private dining room hidden at the back of a designer tailor's, launched in June, bringing quintessentially British food to one of London's last bastions of Bangladeshi cooking.
As Brick Lane continues its defence against 20-something "Hoxtonites", supper clubs like this are pulling crackers among the crinoline beards and vintage waist cinches.
Anyway, finding the actual space was quite exciting and the fact it's hidden and unsigned transported me to a Mr Benn shop (kiddie cool cats – look it up) as I, full of wonder, pushed my way through mothed Astrakahn coats and cocktail off-the-shoulders. No, that's Narnia… as I pushed my way into the erstwhile storage room, now 70s retro-decorated, all teak sideboards and mantel clocks, with sharing tables and platters in true supper club style.
Back in 5 Minutes runs every Friday and Saturday evening, seating up to 30 people on three tables. Its hosts, Disappearing Dining Club, "brings like-minded people together to enjoy great food, drink and good company in reclaimed or unusual places in London" they say.  DDC runs other events here too such as private parties and lunches and was founded in 2010 by Stuart Langley after 10 years of running bars, restaurants and members clubs in London and abroad. It's also just launched weekend supperclubs in Devon where your posse is privately cooked for in a big barn.
Dinner is either two or three courses with a simple menu of three starters, three mains and three deserts for £25 or £30 per person.
You can expect dishes like beetroot cured trout fillet or grilled English asparagus and sauce mousseline to start, green pea & summer truffle risotto for the main, and steamed strawberry jam roly-poly for puddings.
Starters come on big wooden sharing boards – we had potted Shoreditch smoked salmon with lemon crème fraiche, a little dry the night we visited with a good potted ham hock with grain mustard and excellent homemade bread. Mains was slow roast pork shoulder with salsa verde, Jersey Royal and asparagus salad with lemon and truffle dressing. The meat was lovely, oily and salty (if you like those things) and fell off the bone nicely and though slightly 90s gastropub, was an enjoyable meal.
The pudding of orange and black pepper panna cota with poached rhubarb didn't work though. It was too hard and watery and we couldn't discern black pepper or rhubarb. However, in all, it was a cosy little place, especially for those dodging those pesky curry houses just up the road.