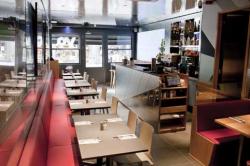 In Lyon, there is a peculiar little restaurant on the banks of the Rhone. It opens its doors between three and nine a.m. and makes an absolute killing serving classic French cuisine to market stall owners, insomniacs and post club revellers. Falling into the latter category of customer, I used to eat at the place often. The food was ok but that hardly mattered. For me, the real draw was the novelty and camaraderie that came of enjoying a civilised dinner as the rest of the city slept. It was like being in on a big secret.
Vingt-Quatre on Fulham Road is London's only 24 hour licenced restaurant and probably the closest equivalent we have to that clandestine Lyonnais eatery. And although it isn't a particularly well-kept secret, I wondered if that similar sense of excitement exists for night time diners here as it did for me in France's second city…
Truth be told, I'm no longer a "post club reveller", I sleep like a baby and I don't own a market stall so I'll never be a first-hand witness of what Vingt-Quatre is exactly like in the dead of night. But I am pleased to have been reassured by the waitress that in the wee small hours the place plays host to an eclectic sample of nocturnal Londoners and crackles with a special energy.
My visit was at the more civilised hour of 11:30am and I was in the market for some brunch. As I walked in I was pleased to see some remnants of the night time custom still present, albeit looking distinctly bleary-eyed. Also present though, were people I was not necessarily expecting: elderly well-to-do couples; thick rimmed glasses wearing trendies; a young family; yummy mummies …the list continues. It seemed the whole gamut of society was represented in one dining room. I was impressed that Vingt-Quatre (or VQ as it calls itself) has universal appeal and clearly balances its role as late night hotspot and chilled daytime hangout pretty much seamlessly.
Fresh from a refurb, VQ has dispensed of its former neutral colour scheme and now adopts an edgier grey and gun-metal silver vibe, probably to appeal to its post pub/club custom base. That said, daylight diners have not been forgotten as it remains a pleasant and comfortable daytime venue too – ideal to pore over newspapers and eat a leisurely meal.
Our meal started with a portion of buttermilk pancakes which I shared with my girlfriend, Ariane. They came with both streaky bacon and fruit on the side and were served with just enough maple syrup. The pancakes themselves were small and didn't taste like they were cooked fresh to order but were nice all the same and the bacon was pleasantly snappy, salty and crisp.
A very generous portion of kedgeree followed. It featured a deliciously pronounced flavour of smoked haddock, a perfectly runny poached egg and curry spiced rice which was delicate enough for morning dining.  Ariane had bubble and squeak with bacon, egg and hollandaise. The dish was bright, colourful and well executed. The hollandaise was deep yellow, held well and delivered the right balance of acidity and creaminess.
The food was well complemented by VQ's excellent "5 a day" smoothies, which are made fresh to order and are so endowed with the power of fruit that you can almost feel your life expectancy tick up with each sip.
Any benefit derived from the smoothie was promptly neutralised though when we were tempted by the waitress to try the chocolate brownie. Served warm with aside of vanilla ice-cream it was gooey and delicious and tasted like a cup of hot chocolate condensed into a state of semi-solid decadence.
By serving big portions and cooking good ingredients to a decent standard VQ ticks all of the boxes for a good breakfast. But its real appeal, for me, doesn't really lie in its food. I like it for being a place that has a massively broad custom base and an inclusive philosophy. I like it for the friendly front of house staff that take the time to chat to their customers. Ultimately, I like VQ for its ability to adapt and maintain its appeal around the clock. These days I accept, I might be a tad too old to order steak and wine at five in the morning, but I won't begrudge those who still can.  London needs a 24 hour restaurant and in that respect, VQ really fits the bill. So, for this reason alone, I would recommend a visit – Anytime.