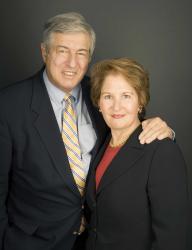 40 storeys above the city's well-trod pavements at the Heron Tower's Duck & Waffle restaurant, Tim Zagat launched his eponymous London restaurant guide with a husky drawl of'Monday, Monday' (Mamas & The Papas). Perhaps unfairly, he later admits that his sons (a doctor and Facebook products expert) call him a'sour shower singer.'
Appropriately, Zagat established what has become a worldwide guide (covering more than 100 countries) over dinner in 1979.'I heard my friend criticise the New York Times food writer for being blinkered. I'd had about 10 glasses of wine, and came up with what I thought was a better idea. Rather than just one critic, surely a larger number of people could get to more restaurants at different times, experiencing both the good and the bad?'
The result, drawn from an initial survey populated by reports of 200 friends and family on various venues food, décor, service and cost, was a free Photostat.'We collected descriptions and ratings by phone and mail – paper and stamps!'
Zagat was not new to analysis.'I'd worked in political surveying for a TV network, covering the 1964 Presidential election. If you weren't accurate, you were fired. And I was accurate.'
By 1982, with more participants, the Zagat guide grew to cover 500 restaurants in New York.'Nina, my wife said we should try to make our hobby tax deductable, so we started selling it for $4.95. Amazingly, we broke even.'
Up to this point, the husband and wife team, who had married while at Yale law school, had retained their day jobs, practising law at different firms.'But, in our fourth year, a cover story on the guide appeared in "Food Spooks". Our sales of 40,000 copies a year rose to 75,000 a month! Suddenly, our hobby was making us more money than our careers.'
By 1984, the Zagat guide covered Los Angeles, San Francisco and Washington, and by 1985, it included resorts and spas. But the enterprise could have come to a gruesome end. In late 1990, the New York Times reported that'an apparently deranged man who had been muttering obscenities' had repeatedly stabbed Zagat in a cinema. It added, in a tale of black humour, that despite the serious nature of the incident, the film, Dances With Wolves'never stopped playing.'
Having survived, the determined Zagat sought new investors in what had become a serious business, benefitting from the dot.com boom of the 1990s.'Venture capitalists suddenly funded us to do what couldn't do before,' he says.
In 2000, Zagat established a management team -'in case Nina or I were hit by a train, plane or boat.' Simultaneously, voting moved from offline to online, with the proviso that checks were put into place to ensure'restaurants couldn't stuff the votes.'
Fast forward to September 2011 and Google acquired Zagat for a reported $151m. Marissa Mayer, Google's Vice President of Local, Maps and Location Services wrote on the Google blog:'"Did you know there's a place in Menlo Park near the Safeway that has a 27 food rating?2 One of my friends asked me that about two years ago, and I was struck because I immediately knew what it meant. Food rating… 30 point scale… Zagat. And the place… had to be good. With no other context, I instantly recognized and trusted Zagat's review and recommendation…'
Zagat, having acquired Frommer's Travel Guide, opened their first European office in London with an initial staff of 10. According to Zagat, 9,583 voters assessed 1,995 of London's restaurants in the latest survey –'twice as many respondents as a year ago.' Zagat details his mantra:'to adopt your accent, not ours.' Led by the 72 year-old Zagat, the team have just finished surveying'all of Ireland,' and are currently appraising Glasgow and Edinburgh.'Next, we'll be focusing on shopping and nightlife in London, and hotels and spas all over England,' says Zagat.
So, what are the values that have seen the Zagat guides diversify apparently flourish over 33 years?'We've tried to be accurate and fair, not to take advantage and be supporter of young talent, hence our 30 Under 30 list of London's Hottest Up-and-Comers,' he says. This includes Tom Adams (23), Head Chef and Owner of Soho's BBQ restaurant, Pitt Cue Co.
Perhaps emboldened by a flute of Champagne from the awards ceremony earlier, I direct Zagat to an article by Guardian restaurant writer, Marina O'Loughlin. Titled'Is Zagat's guide to London restaurants on another planet?', O'Loughlin decries the guide as'created by fossils for fossils.'
'We are lawyer like in our approach,' counters Zagat,'that is, consistency, accuracy and fairness. If we get it wrong, tell us where we went wrong. Did we fail to mention your restaurant has a beautiful outdoor garden? Tell us about it.' He pauses.'Look, it doesn't hurt to be criticised by the likes of Marina O'Loughlin unless she's right. It only hurts when we get it wrong.'
The 2013 Zagat Survey to London Restaurants (£10.99) is printed using'environmentally preferable' inks. In addition to quirky categories like'fireplaces' and'Sleepers' (good food but little known), key findings include:
-Despite the ongoing economic downturn, diners say they are spending 30% more in the capital's restaurants this year than last
-They are eating out an average of 2.2 times a week – the same as last year and well below the rates in New York, Paris and Tokyo (3 to 4 times a week)
-Numerous sophisticated chefs and restaurateurs both from here and abroad have placed a vote of confidence in London's dining future by making investments in new restaurants
-Popular but notoriously expensive restaurants such as Dinner by Heston Blumenthal and Gordon Ramsay at Claridge's are rated highly for making their food affordable through fixed price lunches
-Pitt Cue Co and Burger & Lobster are among the many American-inspired debuts and carnivores' delights – the former a Soho-based restaurant of "serious BBQ meat action" and the latter with no formal menu and just one price for – of course – a burger or toothsome lobster with fries
-When it comes to what Londoners want to eat, the flavour of the year goes to Italian cuisine (25%) followed by French (17%) and Japanese (14%). Ironically, Londoners rate French restaurants more highly than Italian but they eat far more frequently in Italian establishments. But there's a thumbs-down for British cuisine, with only 1 in 10 diners naming it as their favourite