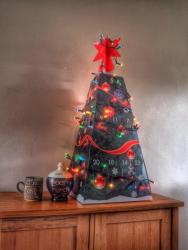 Best of British Beer has created an advent calendar with a difference for this Christmas – instead of chocolates behind the doors, there are bottles of beer.
The limited edition'calendar' comprises a 105cm high, 40cm wide cardboard tree and star, 24 330 ml bottles, a special 500 ml treat for Christmas Day, serving suggestions for all the beers, and a special festive quiz.
It comes fully assembled, apart from the star, which is easily added.
Only 1000 of the calendars have been produced. They retail at £95 (including next day delivery) and are available from the Best of British Beer website.