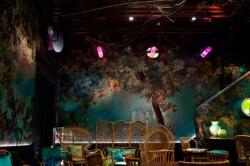 There should be little doubt that the ritual of afternoon tea is a particularly British one. But in case you don't believe me, I'd urge you to consult Alan Davidson's indispensable Oxford Companion to Food, which is the last word on matters such as this.
Not only does he say that afternoon tea 'essentially British', it appears that one of the first literary references to the taking of tea or coffee in the afternoon mentions my very own home town of Harrogate in North Yorkshire. Indeed, you could say that as home to the world famous Bettys Tea Rooms, Harrogate remains the beating heart of the traditional British afternoon tea.
As a native of Harrogate and frequent customer of Bettys, I was obviously the ideal man to sample the new afternoon tea menu at Sketch, Pierre Gagnaire's multi-roomed pleasure dome on Conduit Street in Mayfair. The question is though, can a French chef's afternoon tea, served by a suave, silver-tongued, smartly dressed French Maitre D' embody everything that is good about such a quintessentially British occasion? The delicate cup of darjeeling, dainty cucumber sandwich, a scone with clotted cream and delicious cakes.
Evidently the French do have certain advantages when it comes to putting together a decent tea, because the tradition of the pâtissier means that they have almost cornered the market in tasty little sweetmeats – macaroons, éclairs, tartes fines etc. But having seen a waiter almost faint in Mariage Frères in Paris when I asked for milk to go with my €11 cup of tippy orange pekoe, I still had some worries over what M. Gagnaire would be serving up.
Afternoon tea at Sketch takes place in the Glade, a room that has been completely redesigned by Carolyn Quatermaine and Didier Mahieu: the walls were decorated with decoupaged tress, which actually reminded me of Manet's famous painting Le dejeuner sur l'herbe, so I half expected to see a couple of naked women and chaps with beards taking their tea and cake. Instead, there were plenty of black-clad waiters and waitresses serving up rather smart looking plates of sandwiches to a hungry and mostly female crowd.
The new menu consists of thirteen different items, so even at £32 a head, it is pretty good value for both the quality on offer and the decoupaged environs. I'm not going to talk you though every single mouthful, but it was a measure of the quality and execution of the food that each stood item stood out from the last, and the tea did not descend into a dull procession of sandwich, followed by scone, followed by cake.
However, there were a couple of standouts, and as expected they were from the top tier of the stand, i.e. the patisserie. I managed to overcome that inbuilt aversion to blue food to scoff a blueberry eclair, which was light, fresh, fruity, sweet and delicious. Just as good was the yuzu and macadamia nut tart, which was a bit of a taste of the Pacific Rim with a French twist. An honourable mention should also go to the scone which was exemplary and would have graced the tables of Harrogate's finest.
To round things off they have a decent selection of teas, or if you want to really splash out go for a glass of champagne or, in this jubilee year, Her Majesty's favourite cocktail, a dubious concoction of Dubonnet and gin.
So if you're in the mood for an afternoon tea with a touch of entente cordiale then Sketch is your spot. It isn't quite the traditional British afternoon tea – no grand hotel dining room, tinkling ivories or penguin suited waiters – but certainly no worse for that.