With National Vegetarian Week almost at an end, we took timely delivery of some sample Veggie ready-made meals from Amy's Kitchen.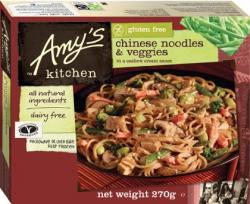 Now some of us remember Lynda McCartney's range of vegetarian meals and how nasty they were. What were you supposed to do with her vegetarian sausages? Count Arthur Strong recommended eating them as vegetables along with your sausages, a pleasantly surreal idea but of course that was when he was on the radio and still funny.
Amy's meals come in somewhat drab packaging, a bit worthy, which is not inspiring but of course the proof is in the eating. They can be microwaved from frozen in about six minutes but we used the oven and it took forty. But hey, we may have saved the planet.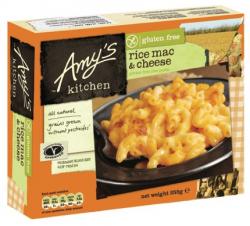 At the time of writing we only had a chance to eat the Macaroni cheese, the Noodles and the Lasagne and you know what? They were very good, packed with genuine (not chemically enhanced) flavours and the only two crits we had were that the noodles were a bit gluey and none of the dishes were quite large enough to completely satisfy one person. It's also easy to dry them out with only a bit of overcooking, so do respect the instructions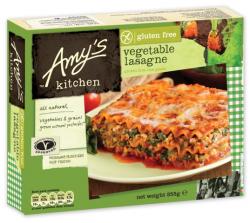 A look at the packaging revealed a long list of quality ingredients, with the word'organic' appearing with reassuring regularity as well as'no GMO'and'Gluten Free' and it's all made by hand too..
It's good to get off the meat wagon now and then and Amy have seriously tempted me to do it more often