Burgers eh? Will the craze never cease? No.not as long as there are 20 somethings who need easy feeding and don't feel comfy in Maccy D cos of all the hoodies. Here in honour of Burger Week are some hot options.
6oz house burger, topped with pulled beef short rib, mc & cheese and Dirty Bones BBQ Sauce.
Dirty Bones is also set to launch an exciting burger eating challenge this month, The Mac Attack! Brave competitors will have to devour the enormous burger, which consists of three patties, two buns, lettuce, tomato, pulled bbq pork, mac and cheese, sat atop a bed of dirty fries, within 10 minutes. And if that wasn't hard enough, there are no liquids allowed. Successful challengers will receive the burger free, win a Dirty Bones cap and will have their photo displayed on the prestigious'Dirty Wall of Fame'. The question is, can you handle it?http://dirty-bones.com/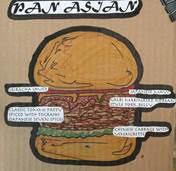 Tommi's Burger Joint: Burger of the Month – The Pan Asian
Classic Tommi's pattry spiced with Tograshi (Japanese Seven Spice), Galbi marinated Korean-style pork belly, Chinese cabbage, Sriracha sauce and Japanese mayo
Tredwell's: Famous Pork sliders
Pulled pork belly, ginger and apple sauce
Opera Tavern: Iberico Pork and Foie Gras mini burger with truffle alioli, fresh truffle and truffle pecorino cheese
In celebration of National Burger Month, Opera Tavern is launching its classic Iberico Pork and Foie Gras mini burger with the addition of truffle alioli, fresh truffle and truffle pecorino cheese.  Located on Catherine Street in the heart of theatre land, Opera Tavern specialises in modern Italian- and Spanish-influenced tapas, served alongside a wide variety of charcuterie, hams and cheeses.  Cooked on the charcoal grill situated on the ground floor of the restaurant, the mini Iberico pork and foie gras burger is extremely popular as a bar snack and is the perfect treat to celebrate national burger month.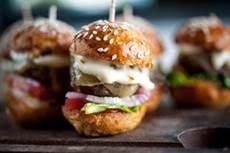 Tom's Kitchen
The Tom's Kitchen Burger is served at all four sites within London – Canary Wharf, Chelsea, St Katharine Docks and Somerset House – garnished with smoked Applewood cheddar, bacon and gherkins.  The Canary Wharf branch also serve mini versions as part of its all day bar snacks menu! Tom's Kitchen is a modern British restaurant serving comfort food classics, where the emphasis is on where the food comes from and how it is grown, using UK-based suppliers wherever possible and supporting British farmers.
Jimmy's Farm
Jimmy's Farm have now launched an online butchery, making it simple and easy to order produce from Jimmy Doherty's farm in Suffolk.  Quality and provenance are paramount and all produce is 100% free-range and of rare or British breed.  With 24 hour delivery available, the barbecue section provide a variety of burgers as well as marinated kebabs, ribs and sausages – all delivered in temperature-controlled boxes.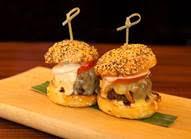 Burgers for starters at STK London
STK London isn't just about steak, their Lil' BGR sliders are a stand out starter. Two wagyu beef patties, special sauce, cheddar cheese, plum tomato, gherkin and onions served on a truffle and butter sesame seed bun. All of which can be "super-sized" with black truffles, foie gras or both. Small but perfectly formed.http://www.stkhouse.com/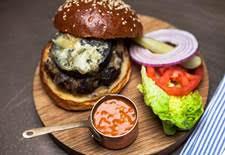 New Street Grill's New Street Burger
100% black Angus beef, glazed milk bun, red onion, relish & pickle – £13.50 (add streaky bacon, fried hen egg, black pudding, Colston Bassett stilton, Montgomery cheddar for £1.25 each) http://www.newstreetgrill.co.uk/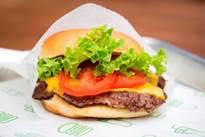 Shake Shack: Shack Burger
Cheeseburger topped with lettuce, tomato and ShackSauce
Busaba Eathai: Fish cake burger
Fish cake, gem lettuce, tomato and pickled cucumber on brioche with sweet potato fries
Big Easy: Smokehouse burger
Fresh-ground Chuck with Bar.B.Q Sauce, Smoked Cheddar and Fried Onions, with Fries,'Slaw and House Pickles
Madison: Hamburger and Triple duck burger
Brioche bun, pickled red onions, Smoked mayonnaise
Duck breast patty, duck confit, foie gras Celeriac coleslaw, plum sauce