The brand new Burger Shack at The Windmill in Clapham opened this week and we being semi-local popped round.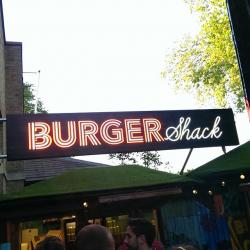 I used to be a regular here in the late 80s but not been back in for many years now and the place has changed quite a bit, not least because it has had a hotel tacked onto it. It's a lot more up-market than it used to be, as reflects the cost of housing in the area now. Back in my day, it was affordable, even a bit down-market to live in Clapham.
The pub's newly refurbished terrace is certainly attractive surrounded as it is by the greenery of the Common, and the corrugated iron Burger Shack, decorated with old British artwork and graffiti, looks good.
The 'Shepherd's Hut' offers covered seating, although it was full, but there were plenty of reclaimed timber scaffolding tables and bench seating available to perch on.
The beef for the burgers comes from West Country farms in Devon, Somerset and Dorset, while pork is sourced from Dingley Dell Farm and Essex Freedom Food pigs.  Brioche-style (sigh, but actually not at all bad) soft buns are baked by a London baker with double cream and egg in the recipe for a'richer flavour and fluffy texture'.
The four burgers, all accompanied by curly fries, are:
The Classic – British beef burger topped with cheese, Young's ale onions and pickles in a soft bun with ketchup and mayonnaise
The Streaky – The Classic topped with Dingley Dell streaky maple bacon
The Chilli Pulled Pork – A soft bun filled with green chilli-spiced slow-cooked pulled pork
The Veggie – Beetroot, almond and lentil hash burger topped with goats' cheese and Young's ale onions
We had The Streaky and it was very good, not one of those enormous monsters you can't get into your gob and not overloaded with too many tastes which meant you could actually taste the precisely cooked beef. It had plenty of pickles in it though, which is always a must for me.
The curly fries came from the freezer but no shame in that, and they were perfectly acceptable even a bit moorish with their spice coating. We found the whole combo of burger and fries just right amount-wise, but we did see some wild-eyed people going round again for more.
On weekends there's going to be a brunch burger too. Served from 10am, the wild boar burger will be topped with fried egg, streaky bacon and cheese. Well rather you than me on that one. I prefer a boiled egg and soldiers myself.
Burger Shack Hits the Road
If you can't get to Clapham, keep an eye out for the Young's mobile Burger Shack. Taking to the open road in a customised Airsteam, the Burger Shack can be seen at other Young's pubs and various events throughout the summer including The Franklin Fork to Fork event on 13th June.
This fundraiser for Ark Franklin (a local primary school in Kensal Green) will see the Burger Shack popping-up with Wahaca, Polpo, Caravan, Hix Restaurants, Dirty Burger and Soho House amongst others. Later this summer it will be firing up its grills at the Grillstock Bar-BBQ and Music Festival in Walthamstow on 5th and 6thSeptember before parking-up at the Alexander Pope pub in Twickenham for all the Rugby World Cup home games.
Follow the truck's travels on Twitter @YoungsShack