1 Snowden Street, London EC2A 2DQ www.lanima.co.uk
With a new head chef in place has L'Anima succeeded in keeping its soul? Danielle Woodward discovers  Italian sophistication five minutes' walk from Liverpool Street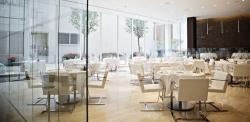 There's no escaping the fact that L'Anima is primarily for smart city types who have enough money not to bat an eyelid at the eye-watering prices. It has an air of formality (it was designed by architect Claudio Silvestrin and has lots of glass letting in lots of light), but there is a welcoming feel, too.
L'Anima means 'soul' in Italian and the restaurant claims it specialises in 'honest, authentic Italian cuisine' with a new menu from head chef Lello Favuzzi, who recently took over from Francesco Mazzei who launched L'Anima) offering a wide choice of seasonal dishes, inspired by Lello's Sicilian and Puglian roots as well as Moorish cuisine.
I started with raw tuna, avocado and mango, which got top marks for presentation and flavour. We were served a light Aneri prosecco to accompany it, and the fresh notes combined with the richness of the tuna tartare was a hit. My friend had the scallops with stuffed courgette flower, baccalà (salt cod) and salsa verde; she said the flavours were exquisite.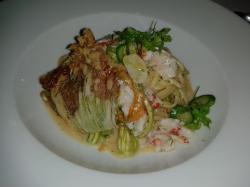 Next came the primo course: I chose the linguini with mazara prawns and courgette flowers and the pasta was a bit too al dente for my taste, but the flavour hit was good and strong. My friend had the green tortelli (pasta parcels) filled with burrata and ricotta, with hazelnuts, which were an unusual and pleasing contrast. That course was accompanied by a glass of Roero Arneis, a fresh, dry white wine that balanced the richness of the pasta.
For the secondi I considered the Sicilian sweet-and-sour rabbit and the fish stew with Sardinian fregola but went for a highlight of L'Anima's spring menu, the lamb with artichoke, pea mash and smoked ricotta – the meat was cooked to perfection; almost melt-in-the-mouth. The wine to accompany that was the Pinot Nero San Michele Appiano; a light red that complemented the rich meat well.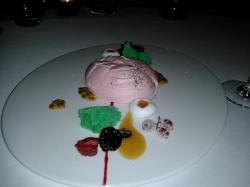 Head chef Lello Favuzzi introduced himself and told us we were getting a unique creation for dessert, and it was as colourful as it was tasty. Rose-pink meringue with green sponge and tangy berry jus was the perfect sweet note to end on – then came coffee and petits fours and I changed my mind; the chocolate brownie was the perfect sweet note to end on. Or was it the biscotti? Regardless, dinner at L'Anima may satiate your physical appetite, but there's nothing better to nourish your soul than to treat yourself to great food. Luckily at L'Anima, you can do both – if you have the cash to spare.