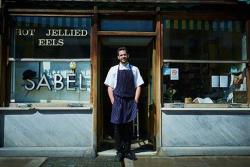 Family-run Sabel is launching a series of Feasts at Palm 2 in Clapton this summer.  Following on from their successful popup at F. Cooke in 2012, Toby Williams draws on his experiences from The Square, MomoFuku and collaborations with Simon Rogan and Ottolenghi to bring a bold, big-flavoured British menu to a room above a local supermarket.
The four course feasts are served on communal banquet tables and made to be enjoyed together with friends and family.
The Chef
After twelve years working in various parts of the food industry and eating his way around London and further afield, Toby draws on his wide range of influences and experiences in creating Sabel.
He began running local restaurants and spent time at The Square and Kitchen W8, but Sabel was always at the back of his mind, so he left the safety of restaurants to explore further.
After a summer in New York staging at Momofuko and Gramercy Tavern, he joined Rocket Food and spent the next four years running large events. From the Wilderness banqueting tent to high profile dinners for a thousand, he learnt how to deliver quality on a large-scale.
As executive chef, he managed the Mercedez AMG Petronas F1 team, travelling and developing his menus, inspired by the produce of Australia and Monaco and the street food markets of Shanghai and KL. In recent years, he has had the great fortune to work alongside and learn from Simon Rogan, St. John and Ottolenghi amongst others.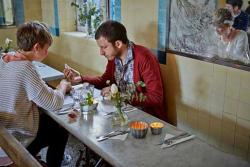 Sample Menu
Rose & gin rickey
Snacks
Seabass tartare, camomile yogurt, rye crumbs and dill
Oxtail croquettes, english mustard
Bread, butter
Starter
Native breeds cured pork collar
Roast Cornish sardines, citrus vinaigrette, borgata and fennel
Spring vegetable salad, lovage and hazelnut pesto
Main course
Pork belly bacon glazed in mead, black pudding and crackling crumble
Smoked mash, gravy
Heirloom tomatoes, ticklemore and parsley
Griddled sweetheart cabbage, apple and caraway salad
Pudding
Meadowsweet custard, poached summer fruits, shortbread
Dates
12-13 June 2015
26-27 June 2015
10-11 July 2015
31-01 July, Aug 2015