Tom Kerridge, Michelin starred chef, restaurant owner and ambassador of Love Porks's 2015 Pulled Pork campaign has released his first in a series of recipes aimed at inspiring people to put Pulled Pork on the menu at home.
The recipes are easy to follow, nutritious and absolutely delicious!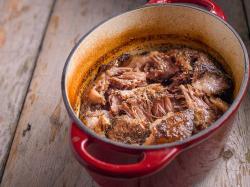 Tom Kerridge's Perfect Pulled Pork
Serves 6-8
Ingredients
1.5kg pork shoulder
1 litre chicken stock
For the spice rub
50g table salt
75g muscovado sugar
1 tbsp dried sage
1 tbsp English mustard powder
1 tsp dried thyme
1 tbsp cracked black pepper
1 tbsp cumin seeds, toasted
3 star anise, toasted and crushed
1 tsp garlic powder
Method
Combine all of the dried mix
Lay the pork shoulder in a roasting dish. With a sharp knife, score 10 or so deep holes into the flesh.
Rub the spice mix all over and into the grooves, making sure the mix is full rubbed in
Wrap the joint completely in cling film and place in the fridge overnight
The following day, remove the pork from the fridge and take off the cling film. Place into a casserole dish and pour in the chicken stock
Cover with a lid and place into a pre-heated oven at 150C for 5-6 hours
Two hours before end of cooking time, remove the lid. This will give you a lovely crispy crust.
Once cooked, remove from the oven and leave to rest for half hour or so before pulling the meat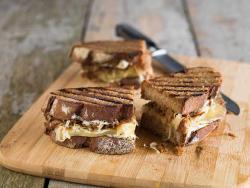 Tom Kerridge's Toasted Ale Pulled Pork Sandwich
Serves 4
Ingredients
For the filling
1 onion, sliced
500ml dark ale
2 tbsp muscovado sugar
2 tbsp malt extract
3 x bay leaves
400g pulled pork
For the sandwich
6 tbsp of mayonnaise
2 tsp cracked black pepper
8 slices of dark rye bloomer, fairly thick
80 ml clarified butter
200g sauerkraut
8 slices of swiss cheese
400ml pork or chicken stock
Method
In a pan add a little oil and sliced onion. Sweat down the onions until they start to caramelise then add beer, sugar, malt extract, stock and bay leaves. Reduce the stock by half then remove the bay leaves.
Add the pulled pork and simmer for 30 minutes to on take all the flavour from the beer stock.
While this is happening, pre-heat your sandwich toaster and make the mayonnaise. In a bowl mix the mayo with the black pepper.
On a chopping board, lay out the eight slices of bread and brush them all with the clarified butter. Then turn them over and spread the mayonnaise onto each slice.
Spoon on the pulled pork mixture to four of the slices, then top with sauerkraut and sliced cheese.
Cover with the other slice of bread, butter slide up and put two sandwiches at a time into your sandwich toaster. Toast for 4 minutes until the cheese starts to melt and the toast is crisp.