William heads to the one time centre of the UK foodie world to see if Fishmore Hall can keep Ludlow on the food map.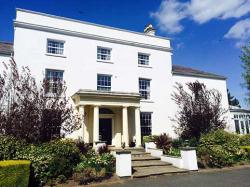 The eyes of the middle classes light up when you tell them you're going to Ludlow. Rather like Bray in Berkshire and Abergavenny in Wales, the small market town has almost inexplicably become fertile ground for fine dining restaurants that go on to form a cluster of Michelin stars.
In truth, the town's reputation as a significant UK'foodie' destination is harder to justify today than it was 10-15 years ago. Shaun Hill's Merchant House closed in 2004, Claude Bosi's Hibiscus relocated to London in 2007, and La Becasse, which popped up in its place, lost its Michelin star and then shut at the beginning of 2015.
Ludlow now has just one restaurant, called Mr Underhills, on one-star terms with the Michelin inspectors. Not bad for a town of just over 10,000 people, but not enough to assuage the feeling that Ludlow doesn't have quite as much to offer the glutton as it used to.
This idea, that'Ludlow's food scene is on the wane', is partly what drew Andrew Birch to take up the position of head chef in the kitchen at Fishmore Hall, a country house hotel a mile outside the town centre.
Birch recently moved north from the Montagu Arms in Hampshire, where he worked for Matthew Tomkinson, another Michelin star winning chef. Now running the kitchen for Fishmore Hall's Forelles restaurant, Birch says he's keen to play his part in reestablishing Ludlow's illustrious gastronomic reputation.
I arrive on a train that enters into Shropshire via its northern boundary and continues down to Ludlow in the very south of the county. The train winds between fields of vibrant yellow and green, and giddy lambs gambol about next to their more stoic mothers in some of them. An English Heritage flag flaps over medieval Stokesay Castle before Ludlow racecourse appears on the left, indicating that it's almost time to get off.
Fishmore Hall is a Georgian country house that served as a private residence, a school, and then'a home for naughty boys' before slipping into dereliction at the beginning of the this century. In 2007, it was completely restored by Laura Penman, the current owner, and turned into a hotel. It feels almost entirely new inside and boasts a large, airy conservatory extension that now serves as the main part of the dining room.
The interior of the hotel is neither ultra-modern designer nor sympathetic Georgian. There's modern art on the walls, shiny surfaces and soft furnishings, but it's comfortable rather than cutting-edge. The Frank Sinatra being piped into reception adds to a slightly bland, corporate feel. Lots of people will find Fishmore Hall familiar and relaxing but it seems a shame it doesn't wear more of its character on the inside.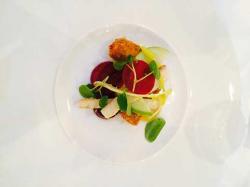 I came for the food rather than the drapes, and the evening begins with a cooking demo from Birch before dinner. He's a personable chef who chats enthusiastically to a few of us in the kitchen about his experience and his ethos. He appreciates the ideas behind buying locally but also wants "the best produce we can get, whether it's local or not" and has forged fruitful relationships with suppliers because he's realised that as a chef "you don't have to shout and be an arse to them", particularly if you want the best.
He prepares four dishes for us to try, including saddle of lamb with wild garlic and his take on cauliflower cheese, which uses different types of punchy cheese, as well as truffle. Both are sophisticated dishes of big flavours that heighten my anticipation for the six course tasting menu to come later. He also makes a salted caramel fondant with apple sorbet and crème freche – it's incredibly moreish apple-pie-for-adults, and absolutely essential if you ever visit.
Bag the right seat at your table and Forelles affords impressive views of the Clee Hills, Shropshire's highest peaks. Our first course provides sufficient distraction though, with crispy pig head croquettes, soft smoked eel, beetroot, apple and a mustard puree elegantly delivering all the right contrasts. There is the richness of the pork with the apple's freshness; the soft, slippery eel with the crunch of beetroot and the faint kick from the mustard puree, all in one mouthful. The owner is responsible for buying the restaurant's wine and a dry, fruity rose from the Languedoc is a good match.
Scallops with cauliflower puree, coriander and a cumin veloute follow. It's a surprise to find these flavours, which together make you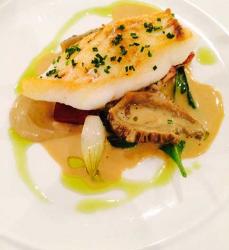 think of Indian food, alongside the delicate taste of scallop, but there is a lightness of touch that means they don't completely overpower the shellfish. I appreciate the dish for its inventiveness and enjoy eating it too.
The third plate consists of a beautiful piece of glossy white Brill that seems to sparkle in the light of the dining room. It's served atop bacon, onion, morels, wild garlic and a mustard sauce, and is conclusive evidence that the food is of a far higher standard than you might expect from the average hotel restaurant. Rat pack on in reception may suggest fish and chips, steak and chips, and chips and chips in the dining room, but that couldn't be further from the reality.
The last savoury course is a few beautiful, almost maroon, slices of duck breast with purple sprouting brocolli, chicory, pickled red cabbage and a velvety peppered sauce. A Zinfandel from California is another excellent match, and I'm allowed a second glass because I'm greedy.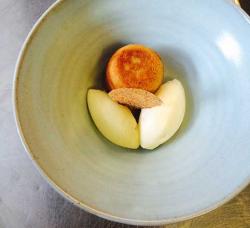 The two puddings are banana mousse with caramel cremeaux and a set chocolate custard. If you like banana, you'll be happy. If you don't, you won't. I don't. I won't. Both are, however, beautifully presented and I will forever bear in mind that salted caramel fondant. The chef knows dessert even if these aren't my favourites.
Fishmore Hall may not be the most fashionable hotel but there is nothing beige or anodyne about the food in the restaurant. There is no denying the grandeur or beauty of the building and its surroundings either. Fishmore Hall is perfectly placed as a one-night stop-off where dinner will inevitably take centre stage.
If the aim of the owner and her new head chef was to put some creative, high-quality food back on the menu in Ludlow, they have succeeded. This was recognised recently by the AA too, who awarded the hotel 3 AA rosettes. Consistency and service are likely to be the only obstacles to higher accolades, because almost all the dishes cooked and created by Birch on my visit had real star quality.