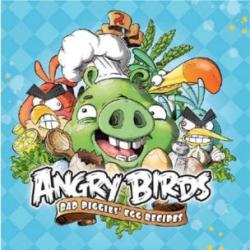 It's the music that gets you, it gets into your head. And then there's the birds themselves, they look so damn funny, and then there's the game. Maddeningly addictive.
Yes it's Angry Birds, the game that has killed more productivity that Tetris. A game so simple and yet so demanding it's almost impossible to put it down. In fact you don't have to, because if you have an iPhone or iPad you can be frustrated and annoyed anywhere you want.
The new Nokia Lumia 800 phone has the latest version of Angry Birds and together with its launch, the game's makers Rovio have launched an Angry Birds Cookbook: The Angry Birds Bad Piggies Egg Recipes.
I played with the 'phone and despite being a Blackberry user (I need to BBM my bwuvs innit) I was impressed by its cool looks and the fact that it wasn't the ubiquitous iPhone. The new Windows OS is excellent, a real step forward, and Angry Birds runs super slick on it.
What about the cookbook? Well the kids liked it and it is indeed fun. The recipes are all about eggs, obviously, and every dish has a jokey name a la Ainsley Harriot, the king of bad puns.
The illustrations are less harsh than the game graphics, less scary for small children, and there are a lot of them. You also get some egg based ideas for healthy hair gels and skincare.
As for the food, well it is by no means childish; you get recipes for noodle-crusted quiche, egg sushi and aioli for example, but overall this is a cookbook to help get kids interested and involved in cooking and that has to be a good thing. Eggsellent in fact
You can get the The Angry Birds Bad Piggies Egg Recipes cookbook from Amazon and it's got to be a good stocking filler this Xmas.
{ISBN:9522760005}