From coffee to guava Bellinis and Mexican doughnuts, Tracy finds out how much'bottomless' has moved on.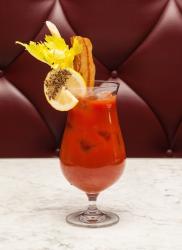 My experience of the concept of'bottomless' has always been with coffee. First, as a child, when a family restaurant offered limitless cups – probably as pay-off for the adults who had to endure the waiter's greeting of'Howdy folks'. Then in Hawaii, when all those American TV shows I'd seen with waitresses continually refilling coffee mugs came to life.
But, thankfully, this concept is no longer confined only to coffee. Asia de Cuba (famous for its Chino-Latino fusion food, which is an interpretation of what Cuban food would have evolved into if its chefs had had access to the global ingredients available to the rest of the world) has introduced a Bottomless Brunch that runs from 12-4pm on Saturdays and Sundays. This includes dessert, where you can treat yourself to as many Mexican doughnuts as you fancy and, depending on which brunch option you choose, you can drink unlimited cocktails or Perrier-Jouet Champagne for a couple of hours.
Both the Cocktail Brunch (£48) and Champagne Brunch (£70) start with a selection of nibbles. These include creamy Black bean houmous – served with plantain and malanga crisps (a speckled, potato-like tuber) – and Ceviche de pescado, made from grouper and served with radish, red and green jalapeño and fresh cheese. This was a wonderfully refreshing mouthful, although the fish was slightly overpowered by the other ingredients.
The following medley of snacks arrived in a cigar box (Cuban, obviously). The meaty and quite substantial Ropa vieja spring rolls were bursting with yummy slow-cooked short rib, while the Shrimp churros (that looked like a denser version of the sweet variety), were served with a Thai coconut aioli that delivered both creaminess and chilli heat.
There were also Mini Cuban sandwiches made from brioche, pulled pork, ham, and Swiss cheese, and Picadillo pastalitos – chorizo and black bean-filled pastries. The Chicken chicharrones looked more like cubes of pork, due to the fact, the waiter explained, to it being prepared in the same manner as pork belly. Soft, tender and delicious, it was served with a sweetish, incredibly moreish dipping sauce.
Adding to the Cuban feel was the live music – uplifting songs (think Buena Vista Social Club) that added a touch of fun to dining experience. And the playfulness continued with the Bespoke Bloody Mary bar, housing a range of vodkas, hot sauces and spices, as well as garnishes such as pickled vegetables.
We both chose plain vodka, rather than flavoured, to which we added tomato juice, and then a choice of either yuzu, lime or lemon juice. Under the direction of the bartender, next came Worcestershire sauce, followed by various seasonings (from pink peppercorns to smoked sea salt) and hot sauce. The mixing of the drink is (thankfully!) left to the professionals, then it's just the garnishes that need to be added.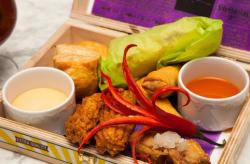 My other half started off traditionally with a stick of celery, then threw that idea out the window with the addition of a cooked rasher of bacon. I opted for pickled fennel. Each Bloody Mary tasted different, with the smoked salt and chilli sauce coming through rather deliciously in mine, and the bacon adding more intrigue than flavour to the other. You can see how this could be dangerous if you were in a group and tasting everyone's concoction…
Main dishes are ordered from the à la carte menu – which offers every sort of breakfast dish imaginable. Breakfast tortilla (with black beans, chorizo and eggs), Smashed avocado, tomato & poached egg and Fire & Ice shrimp with watermelon, cucumber, napa cabbage, sesame and crispy wonton are just some of the options. I went for the Mojo duck confit; a brown rice dish with orange, Thai basil and chilli, topped with a poached egg. The rich duck was offset by the strong aniseed flavour of the Thai basil, while the egg and rice were the sort of comfort food that feels right being eaten out of a bowl – and would probably be perfect the morning after one too many of those cocktails…
The Cuban eggs Benedict with barbecued pulled pork and a chipotlaise sauce was the other dish we tried. This was meaty, although not heavily spiced, and was so tender it could be cut with a fork. It was flavourful, but if you're a hollandaise fan, you might prefer a more traditional version (which are also available).
If you really can't find something from this selection of dishes that excites your taste buds (or if you are wanting more of a lunchtime dish), you can upgrade to the Cuban Roast (for £10), which gives you the choice of Cuban-style slow-cooked roasted pork or lamb, served with various sides such as black beans, fried rice and plantain fricassee.
To finish, there are the Mexican doughnuts. No surprises here – if you like doughnuts, you'll enjoy these airy mouthfuls. I expected the caramel dipping sauce to be too sweet for my liking, but it was just right, while the Thai chilli chocolate hit the spot with its deliciously spicy note.
Wonderfully satisfied, and perhaps a little merry from the daytime cocktail drinking, we decided that we had experienced fusion food but should extrapolate on the concept and enjoy a bit of cultural fusion, too. So it was off home for an afternoon siesta.