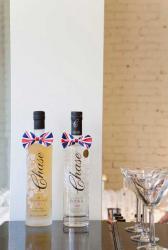 To celebrate award-winning Chase vodka's launch into Russia, James Chase is set to host the ultimate vodka tasting and food pairing tour of the world this October. Join James in an unforgettable evening at London's The Whip Cocktail Bar, situated above Mayfair's The Running Horse. Exclusive and one date only, this unforgettable tasting experience will take place on 28th October from 7:00 – 9:00pm.
An experience no single estate vodka fan will want to miss, Chase's award winning vodkas will be paired with world cuisine from England, South America, India, Southern Spain, France, Australia – and of course Russia – in a delectable menu curated by The Running Horse's Head Chef, Steph Hue Hefer.
Fans of Chase spirits will be able to sample its unique range neat – or in a inspiring cocktail creation, personally shaken up by The Whip's Head Bartender, David Gerrans. Availability is limited with tickets priced at £50 per head. The tasting experience includes a brand book trio and six vodka and food pairings to match. Bookings can be made directly through david@thewhipmayfair.co.uk or Event Brite.
Chase Vodka is the world's first super premium English potato vodka. Made on a family farm in Herefordshire, Chase is the only UK distillery to offer a premium vodka that is created entirely from seed to bottle, producing a quality vodka with provenance.