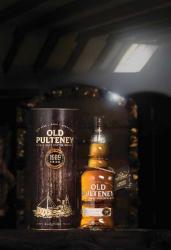 Old Pulteney Single Malt Scotch Whisky costs  £135 per bottle, said the PR, would I like a sample? Well what religion is the Pope?
Unfortunately what arrived was two miniatures, but to be fair I really should not have expected a full bottle I was just in grabby mode.Even so, there's a fair bit of whisky in two miniatures, four stiff measures as served in the average middle-class home, so I sat down on a Sunday afternoon, newspapers strewn in all directions and poured myself one.
The whisky is apparently matured in hand-selected American oak ex-bourbon barrels, which previously held heavily peated malt. Each bottle is natural in colour, non chill-filtered at 46%.  On the palate it is peaty to start with a heavy, spicy underpinning. With notes of vanilla, coconut and oranges and long-lasting finish.
In fact, it's rather delicious. I'm an Irish whisky kind of person normally, and I usualy prefer a blended Scotch as peatiness I find can be overpowering. This however presents just the right amount, as if passing close by a crofter's cottage on one's way down to the beach. Or so I decided after the third one. I then read the press release again:
'Founded in 1826 at the height of Wick's herring boom, Pulteney Distillery is one of the most northerly distilleries on the Scottish mainland. It is this unique maritime heritage that gives the whisky its identity as the'Maritime Malt'. A long-held favourite for whisky enthusiasts, many say they can taste a faint hint of the sea in Old Pulteney thanks to the distillery's windswept location and close proximity to the North Sea.'
I don't know about the hint of the sea but the room was beginning to move a bit.
This 1989 vintage is a limited edition but I can certainly say that after 10cl of it I'm hooked. If you're looking for a Xmas present for a deserving Dad or just want to treat yourself. then Old Pulteney is definitely your boy.
Old Pulteney Single Malt Whisky
Old Pulteney Single Malt Whisky, is diligently crafted at Pulteney Distillery in Wick. It was founded in 1826 by James Henderson at the height of Wick's herring boom.  The distillery lies in the heart of'Pulteneytown', which was created for all the fishermen at the time, and is embedded in the deep rooting history of this coastal town, which used to be one of the most important and biggest herring fishing ports in Europe.