Any number of brass monkeys would be looking worried if they were walking down Crystal Palace parade this evening.  One of the highest points in London, this place attracts cold winds like few other spots west of Siberia.
It also attracts restaurants. Within a relatively small area'the  Triangle' eateries abound and it's a postcode clearly on the way back up. As well as restaurants many coffee shops have popped up and where there's coffee, there's money. It's always an indicator of how much of the disposable stuff locals have.
This resurgence has not escaped the notice of the brothers behind the Lido Café down the hill in Brixton. So with entrepreneurial flair they have opened the 400 Rabbits Pizzeria in Westow Street.
It's a bright, airy place with wooden school style seats, which are a bit hard on the posterior but are nonetheless functional and aesthetically pleasing. The large pizza oven is at the back, wood-fired I am pleased to note when I take a glance inside, but the presence of what looks like a large gas pipe indicates it may have more prosaic back-up if required.
There are no reservations at 400 Rabbits, which means you may have to wait as it's already a very popular spot. You can ease the pain of that not so long wait with a craft beer or two. Yes craft beer, don't yawn.
They have draught, bottles and cans all reasonable in number and pretty local. They also plan, it seems, to offer bottle refills for home consumption. My Weird Beard Mac Spreadsheet Ninja has the overt hoppiness that micro brewers really go for, hoppiness being the only thing hipsters ever seem to comment on, or perhaps recognise, in a beer. It's 5.4% too, so best to take it easy.
Five pizzas on the menu, but four more specials on the wall and this seems the right amount of choice. When we sit down the waiter says he will tell us about the specials, the poster being far too small to read except close up, but he didn't and we forgot all about them until later when it was too late. Pig's cheek topping was one apparently.
I am a bit of a puritan about pizzas, I don't like too many toppings and I don't like what I would call odd toppings either. This means I immediately reject the ground, aged Hereford beef option. I try to avoid mince most of the time, but especially on a pizza.
Ibérico chorizo is not Italian of course, but it's a close alternative so I have that. It comes with pickled chilies, tomatoes and mozzarella – as indeed it should. Some pizzas here specify that they feature San Marzano tomatoes and Fior de Latte mozzarella, but this one doesn't. I suspect they all do though in fact.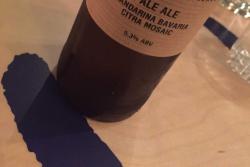 It's a good base, a pizza base being not merely the carrier of the toppings but a major part of the taste. This is a well-fermented sourdough with the right amount of charred bubbles at the edge and a wet centre. We could do with decent knives to cut it though, I am reduced to dragging the knife and fork and the plate slides about like Torville and Dean performing after six pints. I know I could use my hands, but that is not the done thing, unless eating pizza in the street.
The chorizo is a bit light in quantity, swamped rather by the tomato but it's good stuff and the mozzarella nicely puddled all around the clock face of the base. There is heat, but it's restrained, so too are the flavours generally.
P has a pizza strewn with Lilliput capers and dotted with anchovy; not enough of the latter though in our opinion. People either like anchovies or they don't, so if they order an anchovy pizza there's no need to be less than generous. The pizza also, of course, has mozzarella and tomato and in this case some onion and rosemary too.
Again it's perfectly fine but it's not got quite the oomph I like, subtlety is a wonderful thing in its place but that place is not I feel a pizza restaurant. However on the plus side this does let the very good base get high billing.
They are quite proud of their gelato at 400 Rabbits but the apple offering was not a hit with us, being a lot of smashed apple with not very much ice cream to cut it. P didn't want to finish it and after one taste, neither did I. My own crunchy caramel was far better, even if the cream on top was of the squirty variety. I actually like squirty cream as it happens.
We would have had a coffee had it been a bit earlier, the choice is good, but didn't want the shakes at that time of night.
I am lucky that where I live, about ten minutes away, I have both Bravi Regazzi and Addome pizzerias and I would recommend that one of the rabbits tries one or both of these places to get a better idea of what toppings work best.
That said, 400 Rabbits is a good pizzeria with above average pizzas but they need, in my view, just to finesse a bit more to have one of the top pizzerias in south London.