Danielle gets to taste the new menu at Carluccio's alongside the man himself.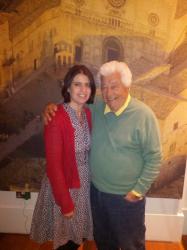 Eating seasonally is important to Antonio Carluccio, which is why the first thing you see when you look at the new autumn/winter menu is a picture of some luscious wild fungi. They say half of the pleasure of eating is with the eyes, and it's a good start.
We were with the man himself to sample some dishes from the new menu, all of which live up to his infamous 'mofmof' philosophy – minimum of fuss, maximum of flavour. Not convinced by the range of 'fusion' restaurants (he calls them a 'confusion'), Carluccio has remained true to his original recipe for success and created tasty, hearty classics with simple, seasonal ingredients.
New mushroom-inspired dishes include a sharing platter funghi fritti, a mix of various mushrooms, breaded and fried with a hint of garlic; zuppa di funghi con pancetta, a rich mushroom and bacon soup served with foccaccia; pappardelle con pollo, chicken pasta with a mix of shiitake, oyster and button mushrooms, and the risotto del giorno, where using fresh ingredients is the key to deliciousness.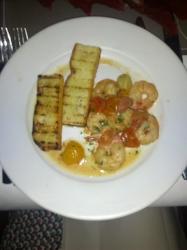 We began our dinner with one of his new signature dishes: prawns marinara, prawns marinated in olive oil, white wine, cherry tomatoes and fennel seeds, with toasted foccaccia bread. A deliciously light way to begin what was to be a traditional Italian four-course meal (antipasti, primo, secondi and dolce); they whetted the appetite with a burst of juicy, fragrant flavour and left you wanting more.
The primo course was a small plate of pasta, the penne alla Luganica; pasta in tomato and fennel sauce with spicy Lagunica sausage. And the sausage had a definite kick to it! As Carluccio says, he was born in the south of Italy, even though he spent most of his childhood in the Piedmont region in the north, and has always been inspired by the fiery heat of southern Italian cuisine. And a hint of chilli is always a good way to warm up on a cold autumnal day.
The next course was lamb rosmarino; lamb cutlets in a breaded rosemary crust served with kale, tomatoes, roasted peppers and olives. I was disappointed not to have a mushroom accompaniment to this main dish, perhaps just a mix of mushrooms fried delicately in butter and garlic, as I felt it would have worked better and complemented the rich flavour of the lamb.
Wines served with the meal included Sicani Rosso, Cantine Settesoli from Sicily, a rich red blend of Nero d'Avola and Mascalese grapes, exclusive to Carluccio's, and the fruity Planeta Segreta, also from Sicily, from a supplier the restaurant chain has worked with for over a decade. As a former wine merchant, although he no longer drinks due to health reasons (he allows himself to sniff it, which apparently is enough these days!), Carluccio definitely knows his grapes.
Dessert was a selection of small mouthfuls of heaven, including a creamy, tiramisu, sharp lemon tart, decadent chocolate brownie and a zabaglione to blow your head off! We were sent home with a packet of pappardelle egg pasta, some dried porcini mushrooms and porcini mushroom oil to create a Carluccio-inspired autumnal dish. And it's something anyone can do easily – Carluccio says he is a cook, not a chef:'a cook makes food with love, with passion.'
The new autumn/winter menu is available at all Carluccio's restaurants now. Find your nearest at www.carluccios.com and shop online at www.carluccios.com/shop-online