With snow thick on the ground in London, buses off the road and the pavement an ice rink we headed somewhere a bit warmer, Scotland, to be introduced to the dubious delights of the Haggis Bonbon.

It's all wrong, the weather that is. Who expects to be stuck at Stansted for an eight hour delay due to a sudden snowfall, when destination Prestwick in Scotland is apparently bathed in sunshine? By the time we finally take off my iPod has gone flat, my books are all read and a horrible snack bar sandwich is curdling in my stomach.
The flight over the Pennines is magical though, the snow on the ground giving an Alpine feel and a reminder that while we all clamour for foreign travel, our own islands have so much to enjoy. And that's why Ayrshire beckons, an invitation to sample a weekend's worth of what this rather neglected part of Scotland has to offer.
Pure, dead brilliant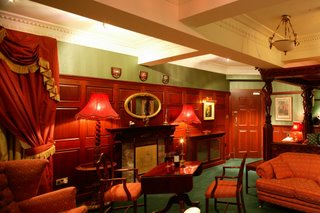 Prestwick airport is billed as a Glasgow airport but it's about as near to Glasgow as Stansted is to London. Not a problem for those of us travelling south though and soon after we leave the airport and the area's rather odd tourist slogan 'Pure, dead brilliant', which must confuse and scare many a foreign visitor, we're rolling into the major town of the county, Ayr itself. Once a major shipping port due to its location on the Firth of Clyde it still works hard while showing an attractive face to the world. Inescapable from any angle is the nearby Isle of Arran over 167 miles square and so close to the beach you feel you could reach out and touch it. As somewhere to visit it sounds wonderful; they say you can experience all facets of Scotland's scenery here in one place, but unfortunately we don't have the time this time,
We're checking into the Fairlfield House Hotel a Victorian mansion, once the home of a wealthy Glasgow tea merchant, a house that has great uninterrupted views of Arran and some of the biggest bedrooms I have ever seen. The bathroom in one of them I swear is bigger than my house. I'm staying in a more modest, but still charming and sympathetically decorated room which is toasty warm against the biting offshore wind now coming down the esplanade. There is a spa and heated indoor pool, sauna and steam room to tempt guests, but I head for the bar and what is to be the first of many whiskies served by the genial bar staff over the next few days.
Haggis bon-bon ahoy!
Tonight is the first dining excursion and a small mini bus driven by, it would appear, Colin McRae's dad takes us on death defying ride out to Enterkine House on roads still snowy and icy where the weak sun hasn't reached. This five star country hotel is hidden deep in the countryside and a private drive winds down through the trees to reveal a classic house built in the 1930's to be a gorgeous home for a wealthy family. Today its location near to the golf course and airport means it's a place for well-heeled tourists and its dining areas a haven for local councillors, Lexus dealers and others who have made a few bob and want to treat themselves and the good lady wife to a special evening out. Walking past the welcoming fires in the hallway we're taken to the small cosy library for drinks and hors d'oeuvres.
And so what is this thing that looks like a malteser on a cocktail stick? Jings but it's a haggis bon-bon with a glass of a whisky 'soup' to chase it down. It's actually not bad, the haggis flavour matching with the whisky rather well and for anyone who wants to say they have eaten a haggis, whilst being a bit shy of scoffing a whole one, it's quite a neat idea. I bet it goes down well with Tartan-clad American tourists. Little did we know at the time though, but the haggis hunt had obviously gone well this year and more haggis bon bons would crop up in the next few days.
Chef Paul Moffat's menu is, in presentation, familiar to anyone who has fine dined in the UK. What raises it up a notch is plenty of local produce, which is good to see, including Kintyre Bay scallops, local wild game terrine, Arbroath smokies, Castle Douglas lamb, Buccleuch beef and Kimelford Halibut. Service is smooth and attentive and apart from a tendency to under season, Moffat has the skills to deliver on the prices. The wine glasses though were wrong – crystal thistle old style, they weren't big enough for the wines, particlualry the reds, and seemed a bit anachronistic even if they were authentic.
Ayr, around and aboot
Next day bright and early and with a brilliant hotel 'Full Scottish' under my ever- expanding belt we popped to see to see the Ayrshire Farmers Market. It was a bit quiet, no doubt due to the time of year, but the intent was clear as was some good examples of local produce such as fish and pies. The nip was in the air though and after some desultory shopping we headed off to an excellent coffee house called Pandora. This looked rather ordinary from the outside but the room behind was a wonder of ancient wood panelling and, even better, a real fire blazing in a grate. No wonder that Ayr's social OAP elite seemed to be gathered there.
Around the corner is Robbie's Drams, a reminder that this is Burn's country and the old swordsman would have liked this shop having as it does over 900 whiskies in stock. We don't have quite enough time to try them all so we settle for a tutored tasting of six from the small distillery on the Isle of Arran.
What can you say about single malts except 'I'll have another'? These are lovely mind, the aromas, the cask colouring often from barrels that have been charred first to give a smokiness and length. Because some are not cold filtered in the usual way, the natural fatty oils have been retained to give a slipperiness that is appealing and unusual. The choice of casks is important, some use old twelve year old sherry casks while one uses old bourbon casks brought over from America which add a subtle vanilla note. There is also a new-wave tendency to try old wine making casks so that the labels on some bottles state th contents were matured in St Emilion, Moscatel and Chateau Margaux barrels, all of which is reflected in the price.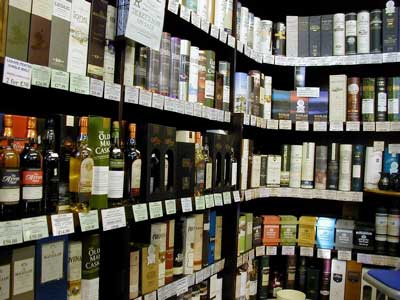 Robbie's Drams is not a poncey place but a local and friendly one. As we sit in our roped off area drinking glass after glass, locals pop in to buy cigarettes and tins of beer, as well as whisky, and all leave with a wave and a 'Cheerio!' The shop organises tastings for all kinds of groups, Robin Russel the owner and manager tells us, and golfers are particularly keen to come on these. He recommends that whisky lovers make a diary date for May 23rd when Whisky An' A' That VI, Ayrshire's biggest whisky festival to be held at Ayr Town Hall next door. It's going to be the biggest yet with more than 18 major whisky companies exhibiting and over 100 whiskies on show, including Limited Edition and rare hard to find bottlings along with new releases. Also attending on the day will be celebrity faces and guests from the whisky world, with various talks and displays being held in the whisky experience area. Sounds good to me.
A bank job
And so, now somewhat unsteadily, to lunch at Fouters. Created from the bank vault of a stern, classic old 18th Century bank building made from stones the size of packing crates, inside it's a modern place with bright cooking centred on local produce. Pan seared local scallops were perfectly done and the crisp pancetta and smooth pea puree good, solid, accompaniments. Equally assured was the seared pigeon breast with fondant potatoes and Puy lentils. These are guaranteed winning combinations and chef wasn't afraid to send out the pigeon as it should always be cooked – rare. London diners often freak out at the sight of a bloody breast, but locals know that game goes tough if cooked more than this and locals are what the restaurant wants to please. With the Ayrshire home of leading international fine wine merchants Corney and Barrow just next door, it has a wine list that would easily be the envy of a many a London sommelier. Friendly service and an easy unpretentiousness explains why many a Glaswegian will make the trip out here quite happily.
And back to school
One of the things that had lured me up to Ayshire, apart from the whisky of course, was the news about a new cookery school starting up. One that promised to be a lot more than a vaguely interactive demonstration as so many are. This was in a brand new purpose-built building with no expense spared on equipment and fully-fitted workstations for all pupils.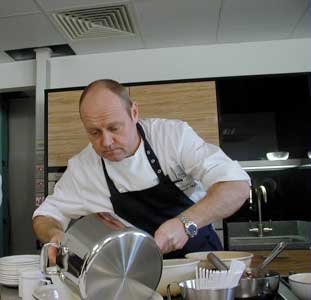 The Braehead Cookery School has sprung out of Braehead Foods, a well-established supplier of speciality foods and game to the catering trade. As well as speciality meats and sausages it also sells Callebault Chocolate products and a range of artisan cheeses. Craig Stevenson the Managing Director welcomed us to the cook school section and apologized for the fact it was freezing inside as well as out. "We're not open yet of course,' he explained, "so the heating is off". As you read this however they will be well and truly open and getting ready for the upcoming Ladies Who Lunch course, ideal as he points out, for a Mother's Day present. He showed us the brand new workstations, each with its own sink and Siemens oven and induction hobs. "We wanted to use equipment as found in the home,' Craig says. 'although this equipment is the very best of its sort.'
With that he introduces us to the school's Cooking MD Steven Doherty who began his cookery career at the Savoy in London and then moved to Le Gavroche where he cooked alongside Albert and Michel Roux, during which time Le Gavroche became the first Three Star Michelin Restaurant in the UK. Currently he is Chef/Proprietor at Lakeland in their purpose built First Floor Café and flagship store in Windermere, Cumbria and is Chairman of the Gordon Ramsey Scholarship encouraging the next generation of Chefs and one of only fifteen chefs to ever achieve the Master of Culinary Arts award.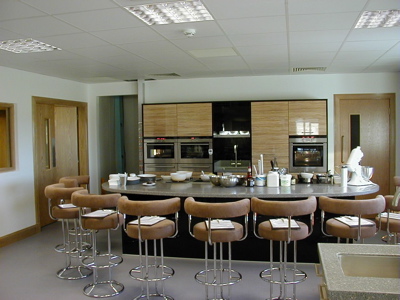 Steven takes us to his demo area where in short order he's knocking out soufflés both savoury and sweet and generally giving us a taste of what the cookery school will be like. These close up demos on a 'stage' purpose built means that all students get to see and hear clearly before going back to their own stations to get some practical in.
The upcoming schedule of classes and tutors is a great mix of cuisine types and a who's who of top chefs from around Scotland. The school's strapline is 'learn from the best in the business' and that's clearly what you will do with classes in the evenings as well as whole days. The school can help out with arranging accommodation and transport in the area too. Class examples coming up are Fiesta of Fish, Pasta Masterclass, a Chocolate Masterclass with Callebault, Healthy Eating and Great British Classics.
At last, a sight of kilt
And so to Troon for one last meal, this time at the Lochgreen House Hotel where a welcome roaring fire in the reception grate awaits us and also warms a wedding party whose men, who are wearing kilts, enjoy the nice breeze. The house is beautiful and set in thirty acres of woodland with oodles of charm and a fine dining restaurant to match. A set menu at £35 is great value with starters such as Wild Mushroom, Celeriac and White Truffle Soup served with a Chicken and Tarragon Pithiver and mains like Crisp Fillet of Silver Sea Bream on a Chorizo Sausage and Cured Ham Risotto, Tomato and Olive Vinaigrette on offer. Despite the size of the dining room, perhaps more accurately described as a hall, it also has an open fire and traditional decration to make it friendly and cosy.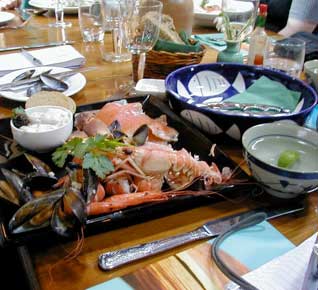 Finally the next day we visit the Fencebay Fishery and smokehouse, a place so fine I felt compelled to write about it separately. This really is the kind of place that shows what Ayrshire is all about; local produce handled by small suppliers with care and affection to create food that can stands out. Places like this are springing up all over Scotland and can only be encouraged. They use theirnown small boat to bring in much of the catch and carefully smoke the results. It adds up to food that has perfect provenance from sea to plate.
And so as I head back to Glasgow, on a train determined to stop at every station en route and wait around for at least ten minutes, I pack my single malt more securely so the budget airline have less chance of busting it in the hold
Nick Harman

For more information on Ayrshire & Arran, please see www.ayrshire-arran.com.
For more information on food festivals, trails and over 600 restaurants across Scotland, visit www.eatscotland.com.
Homecoming Scotland 2009 is a year long celebration of Scottish culture, heritage and some of the many great contributions Scotland has given the world www.homecomingscotland2009.com