Continuing our tour of the Peak District we visited the Bakewell Show; an annual riot of food, drink, cattle, dogs, manure, mud, wellies, dogs, smells, jousting knights, dogs and farm machinery that can take your arm off in seconds.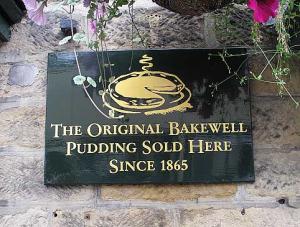 I was told very one good way of annoying a Bakewell resident was to ask for a Bakewell Tart. 'It's a blooming pudding!' they would apparently reply, whilst going red in the face with anger. Well fair enough but the shops in this town, sometimes regarded as the gateway to the North proper, has a fair few Bakewell Tart shops all vying to be classed as the original so someone had better make their mind up about nomenclature..
Pudding or tart it doesn't really resemble the product that Mr Kipling has been selling all these years, (no cherry on top) nor my nemesis, his other themed tea time treat the Bakewell Slice. I say nemesis because I adored that day glow pink confection well into my twenties until suddenly it stopped loving me back. One slice would make me extremely nauseous an hour later, something to do with my growing intolerance to processed fats I was informed in A&E, and so regretfully the slice and I went our separate ways.
Quite frankly I don't much like the look of these Puddings either. People are emerging from shops carrying them in paper bags that are rapidly becoming translucent from the amount of fat leeching into them and many a tourist is taking a bite, chewing thoughtfully, then somewhat desperately, with bulging hamster cheeks, looking around for a litter bin. The recipe is a closely guarded secret apparently, although Heston Blumentahl could probably reverse engineer the formula from one of the bin samples if he really wanted. The Bakewell Tart Shop & Coffee House in Matlock Street, yes that is its real name, claims to have the original recipe locked in its safe and mutterings in the town say that they want the Pudding given protected status so that only if made in Bakewell can it be called a Bakewell Pudding. Mr Kipling is no doubt already briefing his exceedingly good lawyers.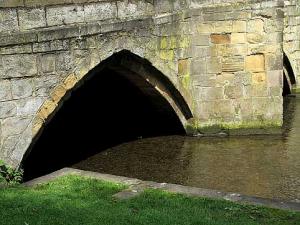 It's a very pretty town though, once you rid yourself of your pie/pudding/tart prejudices with ancient stone bridges over a wide river packed with squabbling ducks and with plenty of cute pubs in its centre. Ever since 1819 over three days in August it gives itself up to a celebration of all things horticultural and agricultural. The showground is a natural ampitheatre with hills all around and people flock from miles to take part or just wander around enjoying a good old-fashioned family day out. Rain the night before had made this day's going soft to swampy, and you could tell the old hands at the show by their sensible wellies. You could also tell their classes and occupations by what sort of wet weather gear they were modelling – young farmers sported Barbours – and by what they had on the end of a lead – a Golden retriever with its tongue out, or a small child stuffing down Quavers.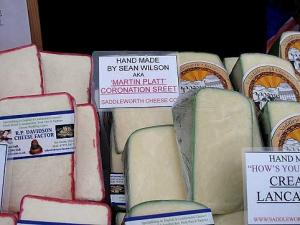 Feeling a bit peckish myself I squelched into the food tent where, according to one stallholder, most of the rain the night before had ended up. As I chatted to him I could feel myself sinking past the plimsoll line on my shoes so I reckoned he was right. Here though was local produce, the good stuff, created by artisan bakers, butchers, cheesemakers and Sean Wilson, a bloke who used to be in Coronation Street apparently. I wouldn't have known this latter fact, having lost interest in the programme when Elsie Tanner died, and with her the hairnet as fashion statement, but large signs all around him testified to his glamorous career in Corrie, before leaving in 2005 in protest at his character's move into seedy sex storylines. Now he was lending his histrionic talents in encouraging passers -by to try his cheese made from Saddleworth milk: Muldoons Picnic (Lancashire crumbly), Shanks Pony (Lancashire creamy), How's Yer Father (Lancashire Tasty),Smelly Apeth (Specially formulated medium soft blue). They seemed rather tasty to me, and if an ex bass player from Blur can become a cheese maker why not an ex Corrie man?
And why not let the buffalo roam over the Peaks? A whole stall was devoted to the minced and sliced remains of Water Buffalo farmed in the area. Saved from extinction after being hunted remorselessly by ancestral Peak People, the water buffalo is now back in greater numbers than ever before, breeding in rural bus stops and towns and…. well no, it's an imported species obviously, but one that likes it in the Peaks where it is quite at home eating lots of vegetation and standing with its feet in puddles. There's a Southerner's stereotyping joke in there, but I'd like to go back and not get a tar and feather overcoat.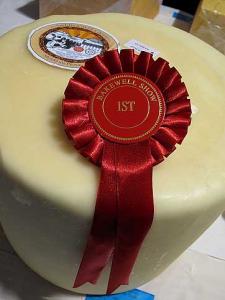 I would have liked the wellies though, I could feel osmosis pulling the flood line up past my ankles, so I made haste for the cheese awards section before going under entirely. Here was a site that would delight Wallace. Cheese as far as the eye could see and none of your foreign stuff either, great prizewinning cheddars, hunks of Lancashire, large rounds of cheeses as blue veined as granny's legs. The tables groaned with great British produce but it was look and don't touch, a frustration I eased by slipping out again to try some prize-winning black pudding.
It was raw, which is fine by me, and came in two sorts – heavily larded with fat or just pinpricked. There was also a vegetarian version, but I treated that with the scorn it deserved and pretended not to see it. It may have been very nice for all I knew, but it wasn't a black pudding. By judicious choosing of stalls and adopting the expression of a dog looking for dinner, I managed to get samples off everybody – some cooked, some not – and the sausages -cooked- were great. I bought a big bag of black puddings, some fabulous pork scratchings, both from New Close Farm from nearby Over Haddon (they also do a mean pork pie), a bag of Derbyshire oatcakes which were spongy and filling and a bargain at £1 a bag and a cheese called a bouncing bomb which I somehow lost somewhere in the outfield so I can't tell you what it was like.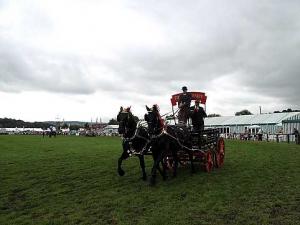 The show has grown in size so much since it's early days it's easy to get lost or to miss things. You couldn't miss the dog show though because it's noisy and when I turned up it was the Irish Wolfhounds turn to be judged and those dogs stand out in a crowd.. Roughly the size of donkeys, these incredible dogs are even more impressive when seen in quantity. You can understand why warlords and barons would be keen to have a pack of these, they would literally eat the average chav dog for lunch and good riddance.
Pausing only to watch the jousting knights, who are actually very good but to be honest I had already seen them earlier at the Lambeth County Show, that bucolic festival that normally ends at nightfall with some traditional country sports such as rap, reggae and knifing.
No such fear here, the crowds milling about were happy as can be as the sun came out raising mystical mist over the hills nearby. A local TV presenter celebrity was being mobbed by kids and my bag of food and drink was getting heavy. Time to go back to The Peacock, I felt, stopping briefly at Buxton on the way to enjoy its famous water straight from the tap in the town centre and to admire the old music hall, part of a regeneration programme that is positively transforming this spa town.
The next day would be back to London, but this whole wonderful world of warm people, warm pies and yes, actually, warm and sunny weather, is so easy to get to by train or car that for me it will be somewhere to revisit as I hand only scraped the surface