The London Edition Hotel, 10 Berners St, London W1T 3LF www.bernerstavern.com/
Nick is bowled over by the glamour of Berners Tavern. And the cakes are great too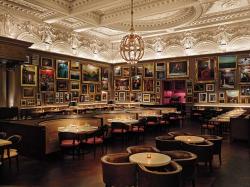 If you've read any reviews of Berners Tavern, Restaurateur Jason Atherton's third opening in the West End, you'll already know that the interior is gorgeous. And it really is. No kidding, no hype.
The scale of the one big room, entered through a kind of glass airlock system, is immense. The barrage of art on the walls, like a giant version of the Hyde Park railings on a Sunday, flings colour at you even as your eyes soar up to the impossibly high double? triple? height ceiling.
It has a buzz even mid-afternoon. Waiters are traditionally dressed and move fluidly and with purpose, darting and diving like mayflies. The buzz of conversation is loud but not oppressive, people seem to be having fun and using the place to meet up. One imagines, one really does, that this is how it may all have seemed in Vienna back when Freud was a young shrink.
Berners is an all-day place, breakfast, lunch, dinner, tea and late supper. We're here for a new addition to the menu, an afternoon tea type thing. While brunch is not quite breakfast and not quite lunch, no one has a name for this concept yet – linner perhaps? Running from 3 to 5.15pm it fills a gap in more ways than one.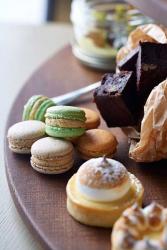 While you can of course get afternoon tea anywhere in London hotel land, Berners Tavern offers a more beguiling menu, one that is short but with sweets.  We first shared our savouries of Truffled Ogleshield cheese and onion toastie with Branston pickles and fries and a lobster and prawn brioche roll, also with fries.
Both appeared within minutes of ordering. The roll was on trend, brioche rolls still enjoying their 15 minutes in the sun, and was packed with shellfish. So much so that they attempted to escape and it all got a bit messy. Tasty, but not one for elegant ladies I don't think.
J rather prissily tackled his half of the toastie with a knife and fork while I grabbed mine with both hands. The truffling was clear and it was the kind of comfort dish one could imagine coming home to as a boy after a day climbing trees, if one's mother was a chef. And rich.  Chips were very good but the lollo rosso lettuce although well-dressed, still seemed a bit All Bar One and unnecessary.
It all boded well for a return visit to try some of the other savoury afternoon dishes, but next we had to have our cake and eat it. And we went a bit overboard on that. Our small table soon began to overflow.
All were gorgeous, not just in taste but in their precision appearance. Lemon Meringue pies had every little peak regular in size, the pastry was even, thin and crispy. Shipwreck tart was a slice of boozy brandy heaven, much much lighter than it looked and nuttier too. A splodge of clotted cream was the icing on the cake (sic)
Also delicious was the Brown Sugar Tart. I've eaten something similar in Belgium. It's a caramel kiss and not at all sugary. We dunked mini, jamless, doughnuts (the'holes') in molten chocolate and trailed it across the table.
Chocolate Brownie bites were a bit too much for me; heavy in a good way they were a bridge too far, unlike the lovely lemon posset served in a jar which was refreshingly citrus sharp. Strawberry trifle was a joy.
Throughout we drank tea; Earl Grey and Jasmine served from silver teapots of decent size. Like the cutlery they were knowingly old-fashioned but somehow they made everything taste better.
It would be hard to dislike any of the food when sitting in this glamorous room, but with Atherton directing and chef de cuisine Phil Carmichael at the helm it was never going to be anything but great. Enjoy your linner, we certainly did.
Photo.Nikolas Koenig