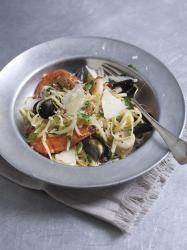 Impress your guests with this indulgent Seafood Linguine. This recipe is fresh, flavoursome and simple to prepare.
Boil the linguine and drain. Fry onions, garlic and chilli until softened and beginning to brown.
Add prawns, mussels and scallops, then stir through lemon zest and juice.
Toss the seafood and Parmigiano Reggiano through the linguine and serve topped with extra Parmigiano Reggiano shavings and parsley.
CREDIT:
The Consorzio del Formaggio Parmigiano Reggiano
Photography: Steve Lee
Recipe Editing and Food Styling: The Dialogue Agency