April 2012. Bertolli will be launching the inaugural Bertolli Spread Olive D'Oro Awards, in partnership with BBCGoodFood.co.uk, to mark 50 years of Italian food in the UK.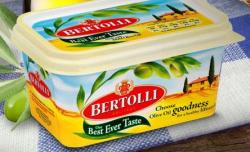 Members of the public can vote for their favourite deli and trattoria via BBCGoodfood.co.uk to celebrate and support these businesses in their local community.
The Top 10 Delis and Top 10 Trattorias that receive the most votes will receive a Bertolli Spread Olive D'Oro Awards, and those with the highest votes in key cities will also be recognised. To encourage voters to back their top eateries, everyone who votes will be in with a chance of winning a luxury holiday for two to Italy.
The first Italian trattorias began to flourish in Britain in the early 1960s – a period referred to as the 'Trattoria Revolution". The revolution saw a wave of Italian immigrants set up Italian trattorias across the UK. Far removed from the constraints of the formal and dominant French venues of the time, these trattorias were informal in feel and authentic in taste.
Italian delis are another much loved Italian export. They bring us the best in Italian delicacies and can be a real hub of the community, where owners share their expertise and passion for food with their customers.
Gennaro Contaldo, acclaimed Italian chef, said: 'Italian food has become so widespread in British dining that there are very few people who can say that they have not been touched by it. Bertolli has a strong heritage in Mediterranean cuisine, and it is great that the Bertolli Spread Olive D'Oro Awards will give people the chance to show their gratitude to their local Italian delis and trattorias, however big or small".