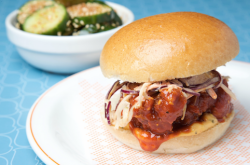 BIRD have always liked to have a bit of decadent fun and with the launch of their new lunch menu they haven't let us down. Not only is it full of elaborate new burger options, it's also exceptionally easy on the pocket. So now there's no reason to wait until Friday to treat yourself. From 20 April 2015, Monday through to Friday from 12-5pm, you can enjoy one of the new lunch dishes and a side or one of the famous Doughnut Hatch doughnuts for £8 (or all 3 for a tenner). The lunch menu is available to eat in, carry out or through delivery all week.
To kick off the launch, BIRD is offering customers 50% off the new lunch menu from 20-25 April 2015.
So what to expect? Think Fried Chicken Biscuit Sandwiches – here free-range fried chicken sits inside a freshly baked soft and flaky buttermilk biscuit, which is slathered in sweet honey butter and spicy hot sauce. Southern comfort can't get any better than this; a Classic Bacon & Cheese Burger with fried chicken, thick cut bacon, American cheese, house-made BBQ sauce and cos lettuce, all wrapped up in on a soft roll; as well as a stand out Korean Burger with BIRD's delicious free-range fried chicken, gochujang glaze and kimchi slaw in a soft bun.
If you're looking for something a bit lighter try BIRD's Chicken Caesar Salad, available with fried or grilled chicken, or the Mu Shu Crispy Fried Chicken with pancakes and tonkatsu sauce – a Japanese twist. Choose from sides including Korean cucumbers, house slaw, the fresh cut fries; or the yeast-risen, hand-cut glazed doughnuts from the Doughnut Hatch, with daily changing flavours. It all sounds very good!