With Bison Beer Crafthouse, owners Nick Vardy and Jack Cregan haven't only captured a taste of Brighton – they've bottled it, finds Kelly Smith.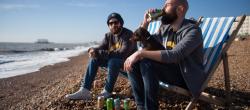 It's true that the city attracts the novel and the quirky, and "independent businesses that want to do things differently", says Vardy. But Bison really delivers on its Brighton mindset.
The shelves of this breezy little booze shop are as diverse as the streets that surround it, packing in many of the world's best craft beers – including 63 of Sussex's own. Far from being a dusty old off-licence, the place buzzes with a constant stream of fresh creations and new ways in which to enjoy them.
As with wine, the beer scene has its own share of purists and pretentious snobs. Thankfully, they're not residing at Bison. Beards they may have, albeit more hipster than Camra, but Vardy and Cregan don't claim to be experts and haven't set out to appeal to the hop elite. They invite anyone who enjoys beer with a bit of flavour to experiment and go a bit further than their'usual'. There's no cooking lager here, though. It's strictly "quality over quantity", says Vardy.
Being an impatient drinker, the cold wall is my favourite. A beer atlas, an irresistible pick-n-mix indexed from west – the US, marking the start of the craft journey – to east, with some interesting brews from Asia, Australia and New Zealand. In the middle, there's plenty to try from our own shores as well as the rest of Europe.
There's more to browse on the Sussex shelf and, quite rightly, Belgium and Germany get a dedicated section too. Plus there's a'light-to-dark' bookcase of pilsners and pale ales, ambers and reds, and porters and stouts.
The beery adventure doesn't end there. If the collection of vibrantly designed bottles and cans isn't enough to render your mouth agape, there's also fresh beer on tap – four different brews dispensed from a nifty counter-pressure filling system into 1.9 litre amber glass'growlers' (or 1 litre plastic bottles), so it keeps for up to six weeks without loss of carbonation. A claim impossible for me to prove since it would never last that long in our fridge.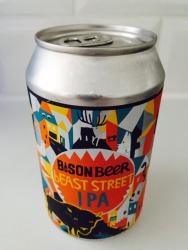 The taps often feature Bison's own beers, such as the best-selling See Side APA and bEast Street IPA, as well as regular appearances from locals Burning Sky,  Brighton Bier and Naked Beer, and Londoners Beavertown and Kernel. Not sure which to go for? You can try before you buy – take a seat on the reclaimed West Pier wood bench, made in memory of Nick's late mum – and even find a beer to match your dinner via iPads rigged up to a food and beer app.
Within a stone's throw of the beach, the draught beer set-up is an ingenious business idea – the shop sold more than 800 litres in its first week. And the ideas keep coming.
As well as brewing their own beer, the industrious Bison boys have put their name to many successful collaborations. Pop-up food and beer events with local restaurant 64 Degrees, a beer-flavoured ice-cream with neighbouring Boho Gelato, a'meet the brewer' night with crowd-funded Kiwis the Yeastie Boys. They're also passionate about design – which has played an important part in setting craft apart from'old man' territory – and for the launch of bEast Street, they worked with some of Brighton's best illustrators (Chloe Batchelor and Billy Mather included) to turn their glass growlers into art.
As Vardy says: "We work in a fast-moving, vibrant industry and there are so many ideas to spin off." There's also no shortage of new beers flowing in. "So many people are leaving their desk-jobs like we did to get creative with beer and experiment with different methods and flavours," he adds.
What next for Bison? For now, its own beer is trickling into Brighton pubs and a London launch is on the cards. "Who knows where we'll be in five years," ponders Vardy. "But we'll see where the appetite goes and go with it. Right now, it's about what customers want day to day."
Which, in Brighton or indeed London, could be anything.
Three beers to drink on the beach…
These refreshing, hoppy pale ales are perfect for summer supping.
A fresh, fun, frolicking beer that invites you to lie down on the beach whatever the weather, or time of day. Very citrusy, true to the bold American style, and only slightly floral, with a blast of zesty grapefruit that keeps you coming back for more.
bEast Street IPA (5% ABV), Bison
Hop-heavy but dangerously drinkable. There's a good punch of yeast on the nose, and its smooth maltiness is nicely balanced with a kick of dry, smoky bitterness.
BenchMark Session IPA (4.7% ABV), Unbarred
You'd never know this fine, well-rounded beer was brewed in a shed in Hove (unless, of course, you read the label). As you'd expect from a session, it's very easy-drinking but with bags of hoppy flavour and a long, crisp finish.