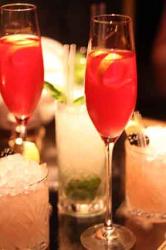 Everyone likes a gin garden, and the one that's popped up in Mayfair's Quaglino's is blooming marvellous (sorry). Full of beautiful flora and fauna it takes over the central bar in the impressive dining room giving it a summery and otherworldly feel, and is the first and pretty much only thing you notice.
John'Giovanni' Quaglino founded the restaurant in 1929 and loved all that was grand and extravagant. He was the consummate professional, welcoming guests with grace and charm in a time where front of house were the stars of the restaurant, rather than the chef. The gin garden is named in his honour, and is beautiful and elegant, a fitting tribute.
For the purposes of the pop-up Quaglino's has partnered with Tanqueray and come up with a range of cocktails to see the thirsty of Mayfair through summer in style. We were invited to check out the installation and soak up the atmosphere, and on arrival promptly took on the awful job of making our way through the gin-based menu. All the cocktails are light and fresh, with delicate flavours that don't overpower the gin, with the Bramble standing out as a particular highlight. Tanqueray 10, crème de mure, lemon, sugar and a splash of soda made for a fruity, tangy, delight. Lots of ice in a bramble though, I'm on the lookout for a less packed version.
The Carbonated Strawberry Aviation was very pretty with its twisted lemon garnish, and the flavours of more Tanqueray 10, maraschino liqueur, strawberry syrup and lemon complimented each other well, making for a good balance.
The Venetian Martini was strong, to the extent where as it was a work night I had to decline a full one, but hints of crème de peche and grapefruit bitters were lovely. Hopefully they'll have the next event on a Friday.
You can enjoy Giovanni's Gin Garden until the end of August, and there are brunches and other events going on. Have a look here for more info.