Taking people up the Shard has always been a smart thing to do, and now for a few glorious weeks there's grouse on the menu. Nick flies up.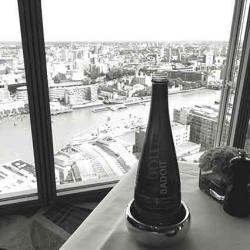 Standing at the bottom of The Shard looking straight up is an inversely vertiginous thing to do. You feel you easily could'slip the surly bonds of earth' and levitate smoothly up. Or you could take the lift, as we did.
Thirty-five flights up, no other stops, this lift goes only to the Shangri-La Hotel and as the acceleration mid way really kicks in you feel yourself shortening a millimetre or two. You forget about that as the doors open and the view kicks in; it never gets old for me these helicopter head down surveys of London, especially on a sunny lunchtime like today.
Rich people glide past hotel reception, many from exotic climes dressed in local finery and clutching smartphones in death grips. But also come people like us, average Joes and Joannas dressed for a nice time and not so cool as to not grab a quick selfie by the windows. Like us.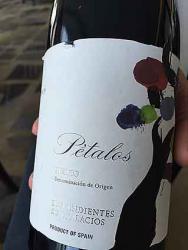 TING, the Shangri La restaurant is swish and slick, it breathes of international travel and cash. The staff however are relaxed and real, smooth in action but not snotty of attitude. They seat us at a table looking bang across at the Walkie Talkie, which stares blankly back. HMS Belfast is like a small boat in a tin bath far below and the Tower of London an incongruous toy fort across the river. It's good to get high.
Grouse in on the menu here from August 12 to mid late September. It's not actually ON the menu though; it's mentioned by the waiter who explains that as grouse can be erratic in the market they prefer not to have it actually printed permanently. That way if they can't get any birds on a particular day, there's no problem with having to patch the menu over. Sensible stuff.
First though some starters, for P the langoustine risotto with smoked paprika and chorizo. She loves it, and I try a forkful to confirm. It is indeed very good, the rice perfectly cooked and shot through with smokiness and chorizo lushness.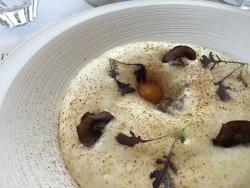 I've chosen that very unfashionable thing, a dish with foam. In fact a dish that is almost completely espuma, a billow of potato covering soft Scottish mushrooms and a just cooked confit egg yolk. Unfashionable or not, it is rather marvellous, recalling the best kind of mashed potato as it floats off the spoon and into the mouth. One slight criticism was a sense of grit here and there, which I suppose did prove they were not cultivated mushrooms.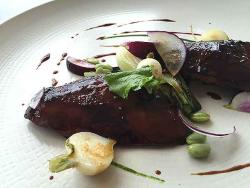 And so to grouse, personally I am not a fan of traditional grouse served on bread with all the usual trimmings, it seems the model of what England was always famous for – heavy food eaten in draughty stately homes by people who didn't really like food all that much.
This is very different, two breasts taken from a bird roasted on the bone and glazed with a soy sauce, sake and mirin reduction A yuzu butter emulsion plus edamame beans, white radishes, baby pak choi, spinach and cress puree come with.
The presentation is colourful, light and airy and yes there are smears but so what? The meat is pink, just as it should be; just like pigeon grouse gets very tough very quickly. The flavour of the bird is not swamped by the umami of the soy, sake and mirin, although the sweetness of the latter is very effective with the meat. The crunch of the radish is very good texturally with the grouse and the slight pepperiness very welcome.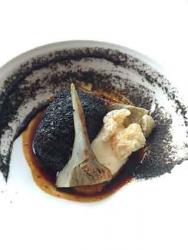 P has Secreto de carrillerapig's cheek that has been slow cooked, rolled in panko breadcrumbs themselves doused in squid ink, finished and then served on a bed of pureed celeriac and topped with artichoke. Black is not usually a good colour for food but here the burnt coal like exterior reveals moist pink'pulled' meat. It's an intense little dish, very indicative of Ting's Asian/British style.
The recommended wine, a stunning Petalos from Spain is perfect with both mains. Dessert was as colourful as a dropped box of Sharpies. A ring of exactly equally sized raspberries sat on a crisp espelette pepper biscuit with lemon grass ice cream was excellent, the raspberries bang on for freshness and, importantly, at room temperature to enhance their flavour.
Guava and lychee compote, lime meringue, coconut ganache and sweet lime rice cracker is light, astringent and beautifully plated. We're beautifully content as we descend back to mundane street level.
The words Hotel Restaurant don't usually set the taste buds tingling, but TING is certainly someting (sic) better than average and the grouse special shows commendable interest in being interesting.
The grouse menu runs until September 6th.