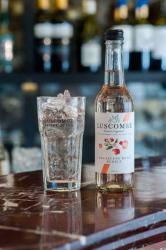 After receiving a surprise package of Luscombe drinks in the post this week, I thought I'd set up a taste-test panel with my kids who are home for school holidays. We set up a rating system and took notes on the taste and look of each drink and generally had some fun with the latest selection of the Devon drink company's summer range.
I must admit, when it comes to summer and family celebrations, I'm in favour of sparkling wines and cocktails – but when you have a gathering of mixed company not everyone will be a seasoned sipper of hard liquor and it's good form to offer a soft alternative. If it's to accompany home-made burgers on a Friday night, then a nip down to the corner shop for a Sprite usually hits the spot. But when you're looking for something with a little more elegance, for a birthday, a celebration or even a breezy back yard summer soirée, it's nice to put as much effort into the soft drinks as you would the boozy ones.
Luscombe drinks never fail to impress. They've got it just right, from the flavours to the packaging and their latest range of summer sizzlers is no exception. No summer would be complete without an elderflower bubbly to tingle the nose on a balmy night; and I'd never tried the Strawberry Crush before which was a sensory delight. The smell of sweet, ripe strawberry is almost too much, but the drink itself is surprisingly tart and not at all too sickly and the colour is so pretty, a deep and hearty blush that would liven up any glass.
The newer flavours in the range are the subtle Damascene Rose Bubbly and the more vigorous Passionate Ginger Beer. The Damascene Rose is a delicate tipple, perfect for afternoon tea or a dinner party. The hint of rose is more of an aroma than a flavour, and as with all the bubbly Luscombe drinks, it's ever-so-slightly effervescent, tasting and looking more like a gently, sweet lemonade.
The Passionate Ginger Beer is on the other end of the personality scale. This one is loud and proud with big flavours and a spicy kickback. The marriage of passionfruit and ginger is a happy one but it might offend purists, as it takes the dryness of ginger beer into a sweeter, fruitier territory. The floating ginger sediment put me off a bit, but not my kids. So who's the grown up in this house?
The results from the panel came out as the Elderflower, Strawberry and Ginger Beer coming in equal second place, with the Damascene Rose coming in first place.