Summer is by no means over, and our friends at Knorr have given us some sunshine recipes that all make use of the instant flavour hit Knorr can deliver.Broccoli Salad, Chicken Kiev and Chili Hot Dog.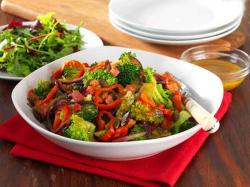 BROCCOLI SALAD
Sweet tender onions and peppers sautéed with vegetable stock, sizzling pancetta and steamed broccoli. The vegetables are left to cool for 10 minutes before being drizzled with a fresh lemon juice and red wine vinegar dressing. This broccoli salad recipe is a great way to enjoy one of our favourite vegetables.
Recipe serves | 2 Preparation Time: 10 min | Cooking Time: 10 min
INGREDIENTS
1 small head broccoli, cut into florets
1 tbsp olive oil
50g pancetta, chopped
½ Knorr Vegetable Stock Pot
1 red onion, sliced
1 red pepper, deseeded and sliced
Juice of 1 lemon
1 tbsp red wine vinegar
30g pumpkin seeds
METHOD
1.Steam the broccoli for 5 minutes in 100ml of water. Strain and plunge the broccoli into iced water to refresh. Strain again and set aside.
2.Heat olive oil in a frying pan over medium-high heat. Add the pancetta, half Knorr Vegetable Stock Pot and cook for 2-3 minutes until the pancetta starts to brown. Add the onion and red pepper and cook for further 5 minutes until the onion and pepper have softened. Remove from heat and leave to cool for 5-10 minutes.
3.Add the blanched broccoli, lemon juice, red wine vinegar and pumpkin seeds. Mix well before serving.
TIP: Serve with rocket leaves, ripe brie cheese and muscatel grapes.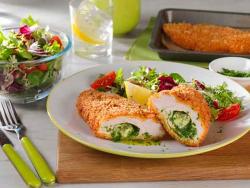 CHICKEN KIEV Who doesn't love a perfectly cooked Chicken Kiev? The home-made butter with Knorr Mixed Herbs and Knorr Garlic Flavour Pots help raise this classic dish to a new level. Remember that the trick to a great Chicken Kiev is to breadcrumb the chicken twice over and a word of warning -the kids will ask you to cook this recipe time and time again.
Recipe serves: 4  | Preparation Time: 20 min | Cool Time: 15 min + 30 min | Cooking Time: 30 min
INGREDIENTS
1 Knorr Garlic Flavour Pot
½ Knorr Mixed Herb Flavour Pot
100g Flora Buttery
4 skinless, boneless chicken breasts
75gdry breadcrumbs
50g fresh Parmesan, grated
1/4 tsp ground black pepper
1/4 tsp paprika
25g plain flour
2 medium eggs, beaten
2 tbsp vegetable oil
METHOD
1.Combine the Knorr Garlic Flavour Pot, Knorr Mixed Herb Flavour Pot and Flora Buttery together in a bowl. Wrap into a tube shape with cling film. Chill in the freezer for 15 minutes.
2.Lay a chicken breast on a chopping board. Using a sharp knife, make a deep pocket inside of the breast. The easiest way to do this is to push the point of the knife halfway into the fat end of the chicken. Be careful not to cut all the way through or the Buttery will leak out when cooking. Repeat with the remaining chicken breasts.
3.Take the chilled Flora Buttery mix out of the freezer and remove cling film. Slice into 12 discs. Push 2 discs into each chicken breast. Press to flatten slightly and reseal the pocket as much as possible using your hands. Set aside.
4.Mix the breadcrumbs with the Parmesan, black pepper and paprika, then tip on to a tray. Spoon the flour on to a separate tray, and the eggs into a bowl.
5.To crumb the chicken, start with coating in flour, making sure to dust off any excess. Dip straight into the beaten egg, and finally the breadcrumb mixture. Repeat with the egg and breadcrumb mixture so each chicken breast has a double coating. Chill for 30 minutes before cooking.
6.Meanwhile, preheat the oven to 180°C, 160°C fan, Gas Mark 4.
7.Heat the oil in a large frying pan over medium-high heat. Fry the chicken for 2 minutes on each side until golden. This can be done in batches. Place in a baking tray.
8.Bake in the oven for 15-20 minutes, until chicken is cooked all the way through and garlic butter is starting to melt.
TIP: Serve with your favourite salad and jacket potatoes if desired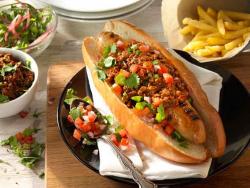 CHILLI HOT DOG These super tasty hot dogs combine the great taste of hot dog sausages with the rich deep flavour of home-made beef chilli sauce to satisfy even the biggest of appetites. Top with some chopped coriander and red chillies for that extra fresh burst of taste.
Recipe serves:4 |Preparation Time: 10 min | Cooking Time: 25 min
INGREDIENTS
1 tbsp olive oil
1 large onion, chopped
2 garlic cloves, chopped
1 tsp cumin seeds
½ Knorr Mixed Chillies Flavour Pot
200g minced beef
½ Knorr Beef Stock Pot
1 tbsp tomato puree
227g can chopped tomatoes
1 tsp chopped oregano
4 small frankfurter sausages
4 hot dog buns
DIRECTIONS
1.Heat olive oil in large frying pan. Add onions and cook on medium heat until onions are soft but not brown. Add garlic and cumin seeds, and stir well for 2 minutes. Stir in the Knorr Mixed Chillies Flavour Pot, turn the heat up and add the minced beef.
2.Cook for 3-5 minutes until the mince is brown. Add the Knorr Beef Stock Pot, tomato puree, chopped tomatoes and oregano. Bring to the boil and then simmer gently for 5-10 minutes.
3.Meanwhile, cook the hot dog sausages as specified on the packaging.
4.Add the sausage to each bun and top with generous amounts of the chilli sauce.