Bourne & Hollingsworth isn't the easiest bar to find. It's tucked away down a side street off Oxford Street and, even then, you'll only find the front door by stepping down from the Fitzrovia streets, leaving the balmy sunshine behind and walking into the gloom below. It's worth it when you do, however.
The bijoux bar itself has been described as many things – "as twee as you can get" being one and "incredibly quirky" another – what sticks, though, is the bar's incredible ability to make you feel as though you're settling in for a knees up in your granny's parlour.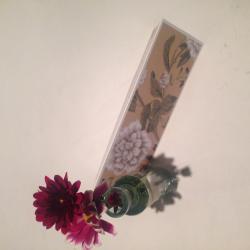 This place is all retro vintage accents and booze-orientated quirks, from the alchemists bar that stretches to the ceiling and heaves with intriguing bottles, potions and unguents and the hidden bathroom door with its touch of Narnia-inspired charm to the flock wallpaper that's replicated on practically every flat surface. But the draw card here is the cocktails, and the care with which the unhurried, laid-back staff make them.
Even the menu is charming, unfolding like origami and scrawled with bistro-chic sketches with neat little sections dedicated to the art of drinking. The cocktail list here is enticingly diverse, with plenty of gin-based options, which, as a gin fanatic, couldn't have pleased me more.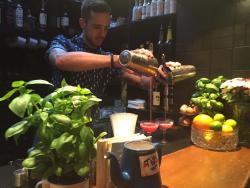 Standouts included the gin-rich and cucumber-heavy Gardener's cocktail, which came in a bone china teacup complete with a single cucumber sandwich balanced on the rim of the saucer…naturally.
Other temptations involved the new range of summer-themed drinks introduced to encapsulate the flavours of an English country garden – think a muddle of rhubarb syrup and ginger with tequila in the Rhuba Club or The Rathbone Spring Punch with raspberries, lemons and the childhood flavour of dandelion & burdock made grownup with a glug of vodka.  
But, alas, I only managed to squeeze in a couple of drinks here before I bumbled off in a gin-soaked haze, so plumped for the following and wasn't disappointed.
The Wibble
This blackberry-spiked blend was as sharp as a cool English morning spent scratching for blackberries along the hedgerows. It finished with a sour-sweet flash of mouth-clenchingly tangy grapefruit.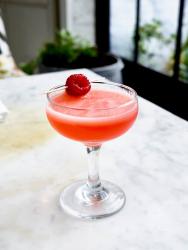 The Pink Jaguar
This fuchsia concoction was the brainchild of Bourne & Hollingsworth's Kelley Hill and, despite being the kind of shade of drink that Del Boy might order, the taste was impressively complex. A fruity mashup of club tropicana Yaguara Cachaca with rosé vermouth, raspberries and a touch of toasted spice courtesy of a home-made cinnamon & white pepper syrup. Surprisingly refreshing and warm at the same time and a real winner.