St Martin's Courtyard off Upper St. Martin's Lane Covent Garden London WC2E 9AB www.suda-thai.com
A lover of Thailand, Tracy hopes a Thai restaurant will recreate that holiday feeling…
It's'summer' in the city. And while the sunshine may be sketchy, if you use the tube at all, you've certainly been exposed to the heat! If almost suffering heat exhaustion isn't enough, you get to work only to be inundated with messages from friends on holiday,'sharing' the fact that they are in some exotic location –while you're not.
Most of those holidays don't really bother me, but the ones that feature sandy beaches and water that looks a Bombay Sapphire bottle has had a spectacular melt-down – now those are more challenging to ignore.
So, with little in the way of exotic travel on the horizon, my plan was to head to a restaurant that would foster, with some local delicacies – and a little imagination – the idea that I am actually in a holiday destination. With Thailand on my wish list, it was off to Suda Thai.
Situated in Covent Garden in the calm enclave of St Martin's Courtyard, the restaurant immediately took us away from the frenetic touristy area into a more peaceful environment.
Seated upstairs, we had to choose between ordering one of the colourful fresh juices (including watermelon, guava and lychee), available individually or as a blend, or something from the rather extensive cocktail list. As the three of us hadn't seen each other for quite a while and this get-together was therefore somewhat of a celebration, the latter won the toss.
The Lemongrass Bellini with Thai ginger, lemon juice and Prosecco (which, besides the lemongrass stirrer, didn't seem to contain or impart any lemongrass flavour) – was rather disappointing for my fellow diners. But I chose better. The Lychee Martini with lychee liqueur and juice, vodka and lemon juice was fresh tasting with a bit of a kick – a lychee-lover's dream.
S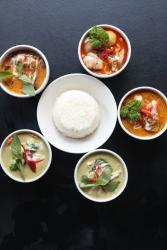 uda's philosophy'is all about sharing the best Thai food with friends, family and loved ones' and, in order to facilitate this, it offers both a Small Bites and a Small Bowls menu. It does, however, also have a full-sized menu, which has all the favourites such as Pad Thai and Som Tum (that lip-smackingly spicy green papaya salad with dried shrimp and peanuts).
The Small Bites selection offered dishes that were both familiar, yet different. Instead of minced prawns, Toast Na Gai was chopped marinated chicken on toast – which was a big hit with one of my dining companions. As was the crisp filo'cracker' filled with chicken and crab (Pratad Pu Cha). My favourite was the Moo Ping – a skewer of barbecued pork served with a dipping sauce, which was really tender and packed with flavour.
My fellow diners opted for the butterflied giant king prawn that was flame-grilled and served with a spicy seafood sauce (Goong Yang).  This divided opinions at the table… One was more than happy, but the other found it a little bland and lacking those heady tastes you associate with South East Asian food.
The Gae Yang – marinated and grilled lamb chops with a dipping sauce, fresh green salad and sweet potato crisps – was a tasty, succulent mouthful. But, again, if you were expecting a kick of chilli or the depth of fish sauce and zesty lime, you might have been a little disappointed.
However, if I was feeling a little deprived of those wonderful sweet, salty, sour, bitter and hot Thai tastes, this was quickly rectified by the Small Bowls menu. Thai curries are right up there with my favourite things, so to be able to do away with that dilemma of which one to choose and instead be able to opt for a few mini versions, felt delightful, if a little greedy – although we did share…
The chicken massaman was, as you'd expect, gently spiced, and filled with potatoes. The first time I tasted this dish, I was sitting at a rustic table on a Thai island with my feet in the sand and the sea a few steps away. No subsequent massaman has ever quite lived up to that memory, but I love them anyway, and they still provide a comforting mouthful – perhaps something to do with the mix of coconut milk and potatoes.
A yellow lamb curry upped the spice factor, with the sauce supplying a good mix of creaminess and chilli heat for the tender chunks of lamb. It's the sort of sauce that, even when you're finished eating, you just want to dip in your finger for another little taste. 
But it was the beef panang curry (Gaeng Panang Nua) that got the table's vote of dish of the night. The meat was fall-apart tender, while the sauce was a heady fusion of piquancy and a dash of sweetness. One bite and it was just'mmms' all around the table…
So with the tastes of Thailand still lingering, images of coconut palms were vivid in my mind's eye. Until, that is, our feet hit the cobbles of Covent Garden and crash-bang, the'holiday' was over and it was back to London.