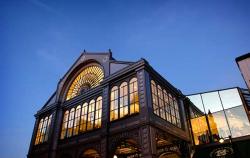 When it comes to breakfast, if you're in need of a culinary wake-up call, head to Central London, says Catherine Jones.
Would you masticate McDonalds when you could gorge on Gaucho? Course not. But when it comes to breakfast, the most important meal of the day, most people make do with a limp slice of toast or a bowl of cereal flakes that look like a skateboarder's knee scabs.
Well, it's time to wake up and smell the coffee. If you want to breakfast like a king, don't limit yourself to your local greasy spoon. I went to Roast in Borough Market and Brasserie Blanc in Fitzrovia to sort my croissants from my Croque-monsieur.
When I got to Borough Market it was a visual feast: Ropes of chillies hung from green painted beams like spiky Chinese lanterns, a rainbow of weird and wonderful veg and twee bunches of Provence lavender jutted out of heart-shaped wicker baskets. There was no'Get yer taters fer a pand' here.
It soon got even more gentile with a trip to Roast, situated above the market. With its white linen table clothes, cream walls adorned with portraits of Bollywood stars and shiny wooden floor, my first thought was it looked a bit, well, corporate.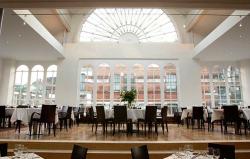 But Roast has two unique selling points: stunning views from its floor-length windows of the Shard, Southwark Cathedral and the bustling market, and well-cooked, innovative breakfasts.
The restaurant offers 16 breakfast choices including Eggs Benedict and a Full English Breakfast as well as nostalgic items like cinnamon eggy bread with bananas or boiled egg with Marmite soldiers.
Chef  Marcus Verberne, who has worked with Mark Hix at restaurants like J Sheekey and The Ivy, puts a twist on everything so the jam we had on our cloud-soft bread was dandelion and redcurrant.
Instead of boring old orange or apple juice, there was a range of'breakfast boosters' – sinful'hair of the dog' Martinis or Pimms or saintly immune-boosting juices.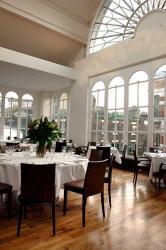 I chose a dubious-sounding Plenish Sweet Sexy Green (a blend of cucumber, romaine, pear and broccoli). It was a bit like drinking liquidised grass but surprisingly refreshing, earthy and sweet.
N's pineapple blend was touted as an anti-aging elixir. I don't think No. 7 have to worry about competition yet but the drink served its purpose – fruity apple and pineapple offset with a hint of mint.
N chose Eggs Royale for her breakfast, and the staff were happy to give her crispy bacon instead of ham. Apart from slightly-thick Hollandaise it was top-notch – melty egg, salty bacon, and soft bread.
My Full Scottish had a herby disc of haggis that conjured up memories of bracing winds and bagpipes and rich, meaty black pudding. Grilled tomatoes and a mushroom sourced from the market were packed with flavour and one flick of my knife and my poached egg oozes sunshine onto my plate.
The'Roast' sausage was chunky and delicately flavoured and the only disappointment was the Lorne Sausage, a square slab of meat that was too dense for me.
At around £15 for breakfast and £5 for drinks, Roast is expensive but the large choice of dishes, quality of the cooking and stunning views make it worth every penny.
If you're after something cheaper, just over three miles down the road, Brasserie Blanc in Charlotte Street, Fitzrovia has now opened its doors to early birds.
Nestled in a street of chain restaurants (Pizza Express, Cote, Café Rouge), there are seven London Brasserie Blancs, the brainchild of maestro Raymond Blanc.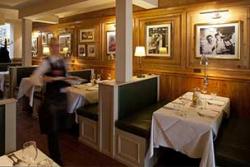 It's reminiscent of Café Rouge with its wood-panelled walls, green leather booths'20s brass lamps and jazz music, and is more informal than Roast.
When we went, it seemed Ol' Ray has been busy, sipping from glasses of wine and tasting his latest creations. We knew this because he smiled down at us from a number of portraits on the walls.
Sadly, he was our only company at the restaurant but admittedly it was only 9.30am on a Saturday morning.
We had fruit platters (neat slices of plum, apple, banana, mango and red grapefruit laid out like jewels) and a spongy, golden Croque Monsieur that was oozing with cheese and good quality ham.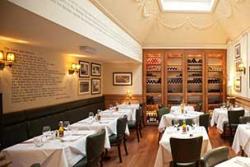 Our waffle was a crunchy, sweet brick. My only criticism was that a standard portion offered a Lilliputian-sized pot of either compote or yoghurt. We had both but the waffle would've be dry with just one of them.
Roast is a'special occasion' place while Brasserie Blanc is more down to earth, a place I'd come for breakfast before shopping with friends on Oxford Street, and the menu and prices reflect that. At £7.50, their traditional Full English was half the price of Roast's.
Roast and Brasserie Blanc offer different breakfast experiences but both are great reasons to get out of bed in the morning. You won't look at breakfast in the same way again.
Brasserie Blanc, 8 Charlotte Street, London, W1T 2LS, 0207 636 4975, www.brasserieblanc.com
Roast, The Floral Hall, Borough Market  Stoney St, London, Greater London SE1 1TL, 0845 034 7300, www.roast-restaurant.com