Scrambled, Not Fried
Many have imagined waking up next to their favourite Bond (Sean Connery, who else?) lying beside them, but only the most exotically beautiful Bond Girls have had the chance. Part of his appeal of course is the certainty that there are Goldfinger's and silver haired Silva's to be bested, and the danger of racing along coastal highways in sporty car-tank hybrids. William's Boyd's latest addition to the James Bond canon,'Solo,' is set in 1969. The new story opens to 007 treating himself to a birthday breakfast at The Dorchester.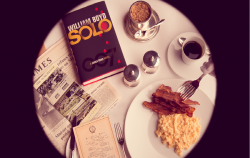 On Saturday 28 September, The Dorchester will host'Breakfast with Bond' at The Grill , during which author William Boyd will read scenes from the first chapter, mingle (over martinis no doubt) with guests and share his experience of writing the book. 
Setting the 1969 scene, vintage cars from the 1960's will be parked on The Dorchester's forecourt, hits from the 60s will be played in the restaurant, and copies of a newspaper and an actual menu from 1969 will be on hand.  Optional dress code: swinging 60s.
Any guests quoting'solo' whilst making breakfast reservations at The Grill (from Thursday 26 September) will receive a copy of the book (excellent for those who like a good spoiler,)or can listen to an audio version on a IPod over breakfast.
Once a week, a table will be chosen at random to be charged the Grill Menu's 1969 price (just less than £2!). Outta sight!
To book a place at'Breakfast with Bond' at The Dorchester on 28 September, call +44 20 7629 8888 or email  restaurants.TDL@dorchestercollection.com and quote'BOYD'.  Tickets for this special event are priced at £69 per person, and include a signed copy of the new book, and Bond's Breakfast (alternatives offered)