It's Fashion Week again, generally the time of year we all dig around our make-up bags for'in' colours such as'burnt orange' and consider, with no small stress, the size and bushiness of our eyebrows. In the post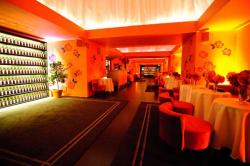 –'oh my god, Anna Wintour cracked a smile' fashion world, will things ever be the same again? In celebration of this most chic week long fashion-fest, Cointreau have opened a pop-up.
Sleek and Minimalist
A squadron of the pruned and aesthetically conscious have begun a tottering pilgrimage across Waterloo Bridge. Somerset House is opening its doors to the majestic mayhem of London Fashion Week once more.  Now summer has been ousted, with any luck Macs, galoshes and polymers will top the list of key fashion trends. If not, orange liquor brand Cointreau is providing shelter in the Cointreau Privé pop-up bar in Leicester Square's St Martin's Lane hotel.
Through the foyer of the sleek, minimalist hotel fashion designer Simone Roche has wantonly curated everything from the walls and furniture to flowers with Cointreau's brand colour orange. The dim lights stop the colour scheme from being too cloying. The function room is a low ceilinged room intercepted by steep, curtain-clad shafts. All cocktails on offer are so-called Cointreau Fizzy cocktails: mixtures of Cointreau spirit with fresh fruit and topped with soda water. Each drink is refreshing rather than intoxicating, allowing for Fashion Week attendees to rejuvenate with a subtle pick me up.
Passion and Pepper
The cocktails include a personal favourite, the'Passion and Pepper' – a combination of pomegranate seeds garnished with a potent chilli pepper. The Basil and Cucumber is a thirst-quenching fusion with a dash o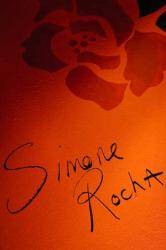 f lime juice. A Cointreupolitan is a mix of lime and cranberry juice served in a martini glass with orange peel. Accompanying the drinks are a range of seafood and chicken canapés. Similarly to the draped walls, the crab, lobster, tofu and chicken bites are all glazed with a Cointreau-based dressing. There's also sour mango dressing and mango sushi; if it can't be an orange it can at least be orange.
Orange walls; orange dalias, hydrangeas, roses; Cointreau glaze and one-spirit cocktails point to nigh-on authoritarian hospitality and battery ram marketing. In spite of this the Cointreau fizzy cocktails and partnering canapés provide light and satisfying refreshment. The Cointreau Privé is open until the 22nd September and is primed to be a pit-stop and place of rest for the London Fashion Week, but is open to all. Book for free at cointreauprive.co.uk.