September 16th marks Mexican Independence Day, a fun-filled celebration packed with singing, dancing, fireworks and fantastic food. Now you can bring the magic of Mexico to your very own dinner table with the range of new and classic products from Discovery, plus its selection of mouth-watering recipes.  
From delicious accompaniments and cooking sauces to sensational seasonings and tortillas, the Discovery range has everything you need to help you celebrate the occasion in true Mexican fashion.
Add a squeeze of the NEW Garlic & Herb Soured Cream to a rich chilli to balance the sizzling flavours or enjoy added taste and colour with your favourite Mexican Enchilladas or Burritos with the NEW Discovery Yellow Jalapeños.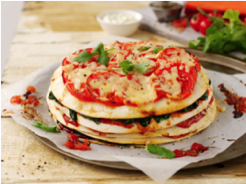 Spinach and Tomato Tortilla Zapata
Tantalise your tastebuds with this stack of Discovery Soft Flour Tortillas, layered with spinach, tomatoes and Salsa. Think of it as a Mexican-style lasagne – it tastes fantastic!
Preparation time: 20 minutes
Cooking time: 30 minutes
Serves: 4
Suitable for freezing
Ingredients:
350g fresh spinach
6 Discovery Soft Flour Tortillas
300g Discovery Salsa
5 large tomatoes, thinly sliced
100g mature Cheddar cheese, grated
2 tbsp Discovery Yellow Jalapeños, drained
Salt and freshly ground black pepper
To serve:
Discovery Garlic & Herb Soured Cream
Fresh coriander
1. Preheat the oven to 180°C/fan oven 160°C/Gas Mark 4. Lightly grease a baking sheet.
2. Pack the spinach into a large colander. Slowly pour a kettleful of boiling water over it to wilt the leaves. Drain well, cool for a few moments, then squeeze out the surplus moisture.
3. Layer the Tortillas on the baking sheet, spreading the first, third and fifth Tortillas with Salsa and spinach, and the second and fourth layers with Salsa, tomatoes, grated cheese and Jalapeños, seasoning as you go with salt and pepper.
4. Top with the final Tortilla, arrange the last slices of tomato on top and sprinkle with cheese. Bake for 25-30 minutes. Cool for a few minutes, then serve with Garlic & Herb Soured Cream and fresh coriander.
Cook's tip: For extra fibre, choose Discovery Wholemeal Tortillas.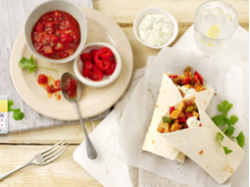 Flaming Hot Chicken Fajitas
A classic Mexican dish, these delicious Hot Chicken Fajitas are guaranteed to bring the most discerning of taste buds to life.
Preparation time: 10 minutes
Cooking time: 15 minutes
Serves: 6
1 tbsp vegetable oil
1 small red pepper, deseeded and diced
1 small green pepper, deseeded and diced
1 small red onion, chopped
150g skinless cooked chicken breast, chopped
1 sachet Discovery Hot Fajita Seasoning Mix (for a cooler option try Medium or Mild Fajita Seasoning)
6 Discovery Soft Flour Tortillas
Discovery Garlic & Herb Soured Cream 
To serve:
Discovery Guacamole Style Topping
Discovery Hot Salsa
Discovery Green Jalapeños (add Yellow Jalapeños for a cooler option)
1. Heat the vegetable oil in a wok or large frying pan and stir-fry the peppers, red onions and potatoes for 4-5 minutes. Stir in the cooked chicken and Fajita Seasoning Mix.
2. Warm the Tortillas, share the chicken mixture between them, then add spoonfuls of Garlic & Herb Soured Cream. Roll up and serve with side dishes of Guacamole, Salsa and Yellow Jalapeños, with extra Garlic & Herb Soured Cream 
Cook's tip: For a veggie version, omit the chicken and add a few little cubes of cheese (Cheddar, Cheshire or Feta), just before you roll up the Tortillas.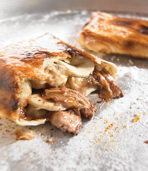 Sweet Chimichangas
This sweet take on traditional Chimichangas makes a great Mexican dessert. From simple kids treats to more sophisticated fillings they taste wonderful, look fantastic and show just how versatile Mexican food can be.
Preparation: 5mins Cooking: 5mins
Fold the tortilla into a sealed parcel around your chosen filling, coat heavily in sifted icing sugar and place under a hot grill until caramelised. Top with ice-cream, whipped cream or custard.
Filling suggestions
· Crushed meringues and raspberries
· White chocolate and blueberries
· Sliced Mars bar and banana
Cream cheese, lemon curd and crushed digestive biscuits
· Christmas pudding and brandy butter
· Cherry pie filling and crushed Amaretti biscuits
· Stewed rhubarb and custard
Ricotta cheese, chopped pistachio nuts and honey
Chef's Tip: Let the children create their favourite fillings!