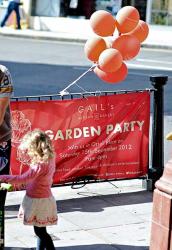 In Oriel Place, Hampstead, on Saturday 21st September from 9am – 5pm, GAIL's Artisan Bakery will host their annual Garden Party supporting Water Aid (www.wateraid.org) an international charity working in 27 countries worldwide to help improve access to safe water, hygiene and sanitation.
For the eight year running, GAIL's has organised the free event for their friends in the local community. The party will celebrate some of Britain's finest food stalls and suppliers, with live music courtesy of a jazz band, and vintage games to entertain the little ones.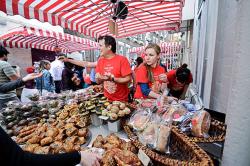 GAIL's own bread and cake stalls will serve favourites such as the French dark sourdough, potato and rosemary sourdough, cinnamon rolls and Soho buns, whilst a pop-up from GAIL's Kitchen will showcase street food from the barbecue as well as tasty desserts.
Other gourmet goods will be on offer from GAIL's supplier and producer friends, including farm pressed juices from Chegworth Valley, artisanal spirits from Sipsmith, and traditional kiln Norwegian smoked salmon from Hansen and Lydersen. Visitors will also be presented with cheese from historic independent producers, Paxton and Whitfield, olives from UK experts, The Fresh Olive Company and craft beers from Boutique Beers.
GAIL's Garden Party: 21st September, 9am – 5pm, Oriel Place, Hampstead, NW3 (entry is free).