A Chicken, Mushroom, English Mustard & Cream Pie made by Great North Pie Co. has taken home the title of Supreme Champion at this year's world-renowned British Pie Awards. Beating 830 other pies to secure the much sought-after trophy and £1,000 cash prize, this truly remarkable Chicken Pie won the judges over with its exquisite appearance and perfect balance of taste and texture.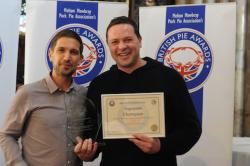 The seventh annual British Pie Awards took place in Melton Mowbray on 22 and 23 April and this year 830 pies were entered from 131 professional bakers and butchers. 109 top pie perfectionists were involved in the judging process, including TV chef Andy Bates, leading food critic Charles Campion and renowned food writer Xanthe Clay.
As well as the Supreme Champion, many other deserving pies received accolades. Most notably, Boghall Butchers in West Lothian, Scotland walked way with seven certificates including a first place for its Chicken Pie as well as being awarded second place in the Steak & Kidney Pie Class, the Lamb Pie Class and Dessert Pie Class and third place in the Fish Pie Class and the Vegetarian Pie Class.
Leicester-based, 190 year old pie makers, Walker & Son performed exceptionally well, sweeping the board with first second and third places in the Savoury Pie Class and receiving accolades in the Chicken & Other Meat Pie Class and the Bride's Pie Class.
Classes at this year's Awards were expanded to 20 in order to include a wider range of pies. One of the new classes for 2015 was the'Free From' class, only allowing entries from pies free from gluten. Proving an exceptionally popular class, pie producers from across the country entered their gluten free pies, but the Free From Steak & Ale Pie produced by The Biddestone Arms pie came out on top.
The Speciality Class at this year's British Pie Awards encouraged pie makers to create showstopping pies fit for the centrepiece at a wedding.  Judges for the'Bride's Pie' class munched their way through carefully crafted creations, ornately decorated pastry and delicious sweet and savoury fillings. The Chicken, Champagne & Truffle Pie produced by Nice Pie was chosen as the'Bride's Pie' class winner and deemed truly fit to'pie the knot'. 
For more information on the British Pie Awards and a full list of the winners, visit www.britishpieawards.co.uk and follow @BritishPies on Twitter.