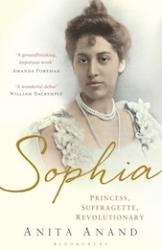 On Friday 12th June, landmark London restaurant The Cinnamon Club is set to host its first literary dinner with acclaimed journalist and writer Anita Anand, bringing her debut book Sophia to life through a four-course Anglo-Indian feast.
Set within the stunning Grade II-listed Old Westminster Library, the event will be duel-hosted by Anita and Executive Chef Vivek Singh, taking place in one of the restaurant's exclusive private dining spaces.
Drawing on Vivek's signature cuisine, marrying Eastern influences and Western culinary styles, the menu carefully reflects Sophia Duleep Singh's life-changing journey from the UK to India and back to Britain as a young revolutionary and early member of the suffragette movement in the 19th Century. Bringing this enthralling story to life through an enchanting gastronomic experience, diners will immerse themselves in Sophia's voyage to India where she uncovered the captivating cuisine, culture and communities. Through each course, readers will discover Sophia's sweet-toothed passion for chocolate, learn about her love for fiery Lahori cuisine and follow her exploration of the traditional fare of Punjabi villages – parathas, halwa and kichri. Paired wines, chosen by in-house expert Laurent Chaniac, will complement each course beautifully.
Sophia is the biographical story of a dispossessed Sikh princess born in the UK in 1876, as the daughter of one of India's most defiant empires. As a suffragette during some of the most eventful times in British and Indian history; Sophia travelled around India and experienced the people, cuisine and culture of her ancestral home, then returned to Britain as a defiant revolutionary. 
A well-known radio and TV journalist with 20 years of experience, Anita will take diners on a course-by-course journey through Sophia's life reading passages from the book and taking questions from the audience. Signed copies of the book will also be available to buy at a limited edition price of £8.
Tickets to this exclusive one-off event cost £125 per person or £130 per person to include a copy of the book. The evening will commence from 6.30pm with a drinks and canapé reception. Places are expected to fill up quickly, so reserve your seat early.
To book, please email info@cinnamonclub.com or call reservations on 020 7222 2555.