186 Stroud Green Road, London, N4 3RN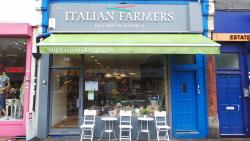 I like delicatessens. I'm fat, maybe that has something to do with it. Come to think of it, I like vending machines too. So maybe it's not the fat thing. I think with delicatessens, it's almost like a quest. If you have more passion for the extra special ingredients that your local corporate supermarket refuses to stock because the mark-up doesn't satisfy the greed-beast's hunger, then you'll go to the delicatessen. It's a quest. It's Shrek and Fiona. Monty Python and the Holy Grail.
So this one in question – The Italian Farmers – is a bit of an Aladdin's Cave or Davy Jones Locker, if you will. Not many people know about it or know of the treasures inside. The Italian Farmers is backed by Campagnamica, which, to break it down for you – it's made by the small independent producers that are all exclusive to The Italian Farmers. And every item is a treasure.
I stumbled across the shop in Stroud green in late 2013 and I'm pretty sure I've paid off their rent for the first two years simply through my purchases of Coppiette. Coppiette? No? Dried pork loin strips with fennel and chilli. Think gourmet jerky. I call them Piggo Stickos, it's much easier. And it's also good for winning favours with Italians from Rome – who will remember it from their childhood and consider it impossible to find in London. But it's here.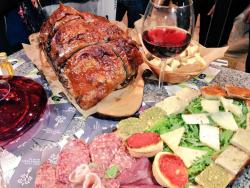 Obviously I'm not going to write about every item and quite frankly, I waffle enough already, so you'll probably be glad that I'll limit this article to The Italian Farmers Taster Menu – a platter of some of their items, prepared precisely and perfectly by the staff, with a glass of wine. It's usually between £9-£12, depending on if you have any special requests to sample certain products.
Let's start with the meat…first up is Corallina, a beautifully rich salami from Rome that is traditionally eaten at Easter time. Then a perfectly aged Bresaola from Valtellina. Everyone ought to know Lonza – if you want a good quality one then go to Italian Farmers. A Mortadella from Bologna is soft and creamy. Kick the spice level up with some Ventricella and then finish off the meat with a few hand-carved slices of Cinta Senese – which is possibly the best Parma Ham that I've eaten.
Cheese time. Ah cheese. The English do great cheese, as do the French, but my palette is suited to the drier, crumblier cheeses of Spain and Italy. Arguably the Italian flagship cheese is Pecorino – a wonderful sheep cheese that comes in varieties in the store. I tried two versions – one with truffle and one seasoned in hay – both, as you'd imagine, are fabulous.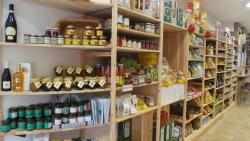 Ok – so, the final thing you'll find on the platter, apart from the fresh rocket and sundried tomato garnishes, is the bruschetta with spreads. Usually you'll get a chilli spread, which the staff do warn you, is a little punchy…but how hot can Italian food be, right? Try it. Have liquid nearby. But forgetting the heat-heads for the moment, the asparagus and artichoke is creamy and packed with flavour. Definitely, definitely try this one.
I've held this review off for too long – every person that I've brought the products to has been excited and happy. The owner, Massimo, has joined me on several foodie nights and my peers have had nothing but good feedback. There's a second store in the Stratford Westfield site if that suits you better than Stroud Green and I'm sure there will be further store openings in the near future. Go for the Piggo Sticko, stay for the huge range of good food.