Keen to shed its Turkish high street restaurant image, Yeni Raki has decided to resurrect the anima of the aniseed spirit. The distiller is refreshing the public's perception of this ancient drink by holding a series of events and competitions to show people how it's not as harsh as traditional rakis, and can be drunk slowly the entire duration of a meal. It's 45% proof so don't be fooled by its blunt hit. And it tops up particularly well in cocktails, especially with an almondy, orangey orgeat in a Mauresque cocktail.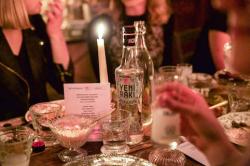 Yeni Raki hosted one of these events at the home/supperclub of food blogger Ms Marmite Lover who served up a feast of mezzes, some of which incorporated the spirit. She'd just got back from Turkey from where she'd brought back some delicious bottarga – an intense, compact grey mullet roe which you shave, truffle-like, onto things like toast. We had some of this plus other starters of dolmades and stuffed aubergines while also delving into the raki infused dishes.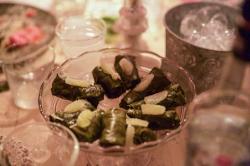 The aniseed of the raki was balanced well with tarragon in the lemon sole dish where it was rolled with cream and raki sauce – these looked like pale little rollmops and were very gentle tasting. 
The puddings were my favourite – a stunning bergamot sorbet with an Earl Grey tea wisp whose eventual bitterness stabbed at the tongue most pleasantly – no raki in it but you could spill some on top if you wanted. The Raki Turkish delight were similarly excellent – fluffy cuboids doused in perhaps a bit too much icing sugar, and vegan – these were made with cornflour rather than gelatine. 
Raki is produced by double-distilling grapes and aniseed together in large copper flasks. It's usually drunk with chilled water and some ice which turns it a milky colour. Ollie Dabbous, head chef and owner of Dabbous and Barnyard, has said: "I'm a fan of the rituals around raki, taking time to slow down and enjoy food and drink without rushing. The flavour of raki is great to experiment with and match dishes to, particularly fish and seafood."
Yeni Raki will be holding a series of competitions to give away "money can't buy" seats at chefs' tables this autumn.  Keep a lookout on their facebook site: