Nik ventures where the pretentious food bloggers dare not – a chain restaurant! Here at Spaghetti House, hidden away beneath the mountain of dishes on offer, he finds a tasty crab special, big enough to fill a man for lunch and for the rest of the day.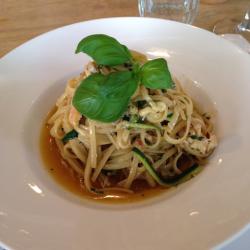 You can't have missed them. The bright lights of Spaghetti House. Well, the bright awnings anyway. Like a red rag to a bull – literally – they draw in tourists and put us 'residents' off.
But why should they? Why do chains always have to get a bad rep? A coffee shop on the South Coast – no names mentioned – is being harangued because it's a bigger chain now than it once was. Too often in the world of food success is attacked, not triumphed.
Anyway, we won't start that rant all over again.
Spaghetti House isn't somewhere I've eaten before, I'll admit. Then again, I don't usually review places I've eaten in before. It wouldn't make sense really.
On an almost warm and sunny day, sitting upstairs at their Goodge Street branch, I can't see how anyone could dislike this restaurant. Views of the busy street below, yet relatively quiet inside and with a cold glass of decent wine in hand (I forget what), it's a perfect way to spend an afternoon.
We shared starters at my request. An excuse to sample a range of dishes, I said. Removing the possibility for food envy (or worse disappointment), is what I actually meant.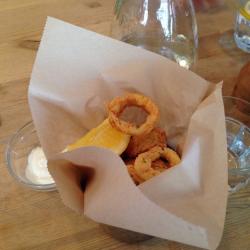 Squid, sea greens, proteins from the sea! I can't say the name of a fish without running through that line – damn genetics. The squid was mighty fine. A risk in a place like this, I'd say, but the small rings were surprisingly fresh and the batter carried enough bite in the salt.
Okay. I said I wanted to share; however, once the squid arrived I pretty much ignored the other two dishes.
For the mains, we stuck to one per person. A pizza, a plate of various meats and crab linguine – the dish I was sent here to try (only available until May 31st!).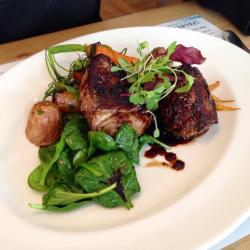 Let's get the other two out of the way first. The pizza looked fine, a little undercooked, but I didn't try it. This is Spaghetti House, not Pizza House, why they have to fill the menu with everything that could ever be considered Italian and some things that definitely can't (hamburger anyone?) is beyond me.
Well, actually it's not. That's my biggest criticism of chains – a desire, driven by men in suits with no taste buds, to please everyone all the time, every time, at any time. Money, money, money! Ching, ching, ching!
Scrap the burger and I might believe you're throwing maximum effort into the rest of your food.
And there was me saying I'd avoid rants today.
The meat plate was very interesting indeed. I had low expectations, yet this was two different meats – beef and lamb – cooked well (and by that I mean pink and tender) and served up in a way pleasing to the eye. Well done that chef! Surely not a dish sent down from head office.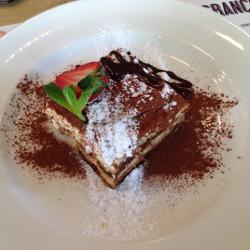 And then we have the crab. Oh the crab. A little heavy, a little sticky and a little large, if I'm being honest – which I always am. Above all else it was tasty though, which is what you want, surely? A steaming bowl of tasty, tasty linguine, wrapped around the one single ingredient you came here for. It's not gourmet, really; it's not finessed either, instead it's a £14 (or so) meal on a plate that will leave you full and struggling to fit in a pudding.
After the crab, we were gone. I think we dug at a pudding, but really three courses was just too much. Wine down, lunch down, we crawled to the pub (The Newman Arms, if you're asking) for a post-meal pint, or digestif as the French call it.
Later that day I lost at least £15 on the dogs – a better investment would have been another bowl of that linguine.
Spaghetti House has 12 restaurants across London. The crab linguine runs until the end of May.