Lucy Self heads South East to the Tulse Hill Hotel and finds the secret to a good holiday is not going very far…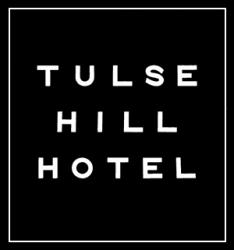 I was reading an article recently about the'micro mini break' – a travel term for busy London bees who only have time to slip away for a single night. The piece provided a handy list of'do-able' trips that could be undertaken in a mere 12 hours (a plié on the Eurostar to Paris for a spot of shopping perhaps or a hop to Edinburgh for haggis). Now I love a holiday as much as the next person (so much so I once flew to Spain via Stockholm because it was the only flight left on a bank holiday weekend) but arriving at a hotel in the dead of night, downing dinner with a few whiskeys then grabbing forty winks before the breakfast buffet is served and the 6.45am train back leaves, is not my idea of a relaxing time.  
The true extent of the craziness of this concept came to me whilst I was spooning thick Greek yoghurt scattered with homemade granola into my mouth one morning. On this particular post dawn Friday, I happened to be breakfasting at the Tulse Hill Hotel.
Why, I thought pouring Earl Grey from a pristine white teapot, would you put yourself through a micro mini break when you can have a tranquil 12-hour hiatus using only your oyster card? I'm all for dipping my toe in the waters beyond the M25 on occasion but, if the gap in your holiday window is only 720 minutes wide, why bother?  
Following an expensive rejig of a Victorian building dating back to 1840 – the Tulse Hill Hotel opened late last year and quickly attracted some fantastic reviews for both its British-focused menu and nine niftily attired bedrooms. I cycled past on many occasions after it opened, each time telling myself off for not getting around to going in. Then Christmas happened, spring sprang (first noted when Brockwell Park, a five minute meander from the hotel, became blanketed in blossom) and I finally got around to not only eating there, but booking a night upstairs too.
First impressions were positive. Both the front bar area and rear restaurant carried the hum of south London locals having a good time. We also noted tasteful touches of olive leather and original features and plenty of candles to give everything a friendly glow. That impression was quickly cemented by the charming waiter/receptionist who gamely checked us in, showed us quickly to our elegant mustard and grey room, and then down again to eat (no time to waste when you've only got'til morning).
We loved dinner: the on-trend seasonal menu worded in typically terse fashion ('Onion Tart','Green things gratin'), throwing up some solid cooking. Starters of sea bream on a startling green tangle of samphire slicked with brown butter and a chunky terrine with excellent fresh bread showcased great produce.
Our favourite of the mains – a pink lamb chop served with a burnished slice of belly, sticky roasted carrots and reassuring dollop of mash – threw away any designs on being clever and just stuck to being what good British grub should be, deeply comforting. Desserts followed the same winning route, particularly a squidy round of apricot sponge topped with a pale vanilla ice cream.
Service remained affable throughout, despite us taking forever to order and asking a million questions of the wine list (thumbs up for offering carafes on pretty much all bottles, having some great sherries and throwing in a couple of organic/biodynamic options for good measure).
By the time we sloped off for the slumbering part (comfortable beds, killer showers and all those modern needs like wifi, ipod docs and expresso makers covered), got our undisturbed eight hours, and re-installed ourselves at the same table with aforementioned granola and an extremely cute pair of boiled eggs served in an old egg box, I felt fully primed for the'micro mini break' phenomenon. Just as long as it involves a London travel card and investigating such local gems such as the Tulse Hill Hotel.