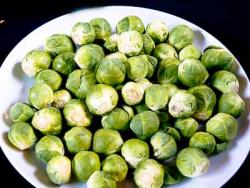 A Brussel Sprout cooking workshop is my first stop as I decamp from the efficient Eurostar train – left on time, arrived on time, didn't run out of buns five minutes after leaving London, UK train operators please note. It was an event recommended to me back in London, but surely sprouts take five hours to cook and can only be served at Christmas, what kind of sick joke is this?
I find out soon after when four top local chefs make merry with the green boys. A sprout is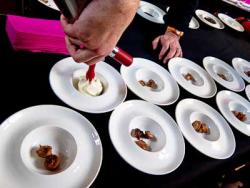 after all just a form of cabbage and while we tend to serve them whole, there's no reason why they can't have their nutty, sweet flavour put to better use. One chef shreds them into Vietnamese sea bass spring rolls. Another cooks them in stock, liquidises them with cream and shoots the result out of a gas powered siphon to serve with grilled sausages. An Italian chef adds them to a pasta sauce made with four cheeses and sliced potato; it's a northern Italian dish adapted to this northern European city. It's certainly the right food to fight the -10C temperature outside so I am really warming to the sprout.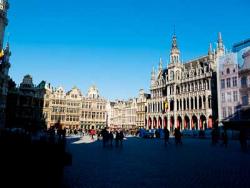 It's a cliché of course to assume Brussels is all about sprouts; the vegetable didn't even originate here but in 16th Century southern Flanders. Nor are mussels, chocolate, mayonnaise and chips the sole culinary delights of Belgium, delicious though they all are.
Brussels in fact is quite a cuisine capital, like Paris albeit on a smaller scale. The money that's around helps; the European Parliament brings plenty of well-paid people to live and work in the capital and they like their grub. In the centre of town, around the very beautiful Grand Place, you can eat superbly well in any number of restaurants, the eye-watering cost diminishing the further from the square you get, but the whole town is stuffed with delicacies.
To celebrate this culinary cred, Brusselicious 2012 is about to place food centre stage for the year. There's plenty on the table to choose from, you can take a chip walk, dropping in on various friteries or frikcots as they're also called, pop into hotels for a special Brusselicious breakfast of cured meats, local cheeses and pates or go for a gourmet tram ride and that's just for starters.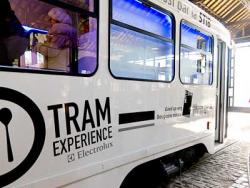 This tram experience looks like being a sell-out success already. In partnership with Electrolux, Brusselicious has created a fridge-white tram with designer seating and a state of the art kitchen in the back. 34 diners will rattle around Brussels for two hours at a time seeing all the best sites and eating the menus of 2 star chefs.
I visited the tram, still in its final stages of preparation in the wonderful Brussels Tram Museum, and chef Denis Roberti from Les Garriques cooked up a series of tasters to try, all of which were inventive and playful as well as delicious. The meals will cost €75 per person and include three courses, two glasses of fizz, two glasses of white and two glasses of red. There's even a loo on board this particular tram, so it's a nonstop ride.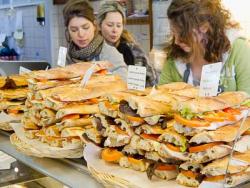 If you prefer to stay on foot then a walk around Brussels to see food sculptures by well-known artists is an excuse to get some culture down you. A giant cone of chips by Oli-B is in progress when I visit the studio where the 40 or so food-themed sculptures are being assembled. Oli himself is applying bright pink to an enormous plastic chip. Compared to the usual ephemeral nature of his street work, he says negligently dripping paint; this solid work should survive more than just a few hours. Next to him, a woman nail gunning old 45 singles to a giant mussel shell nods in cheerful agreement.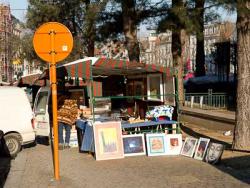 A walk around Brussels is also a chance to sample the vast range of food treats available. In the upmarket Sablons area, overlooked by the beautiful Notre-Dame du Sablon church, there are small art galleries, bookshops, an outdoor market and one of Brussels best and oldest chocolate shops Wittamer. This is run by Myriam, granddaughter of the founder, and upstairs is a small cafe where I defrosted over the best cup of hot chocolate I've ever had, as well as a very stylish chocolate cake.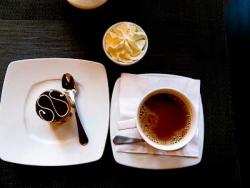 All around the area are more chocolate shops, along with Dandoy selling the famous Speculoos biscuit, Champigros which sells a massive variety of fresh mushrooms and Charli a hip young bakers where you can see the bakers at work and try a fabulous croissant. 'We let the dough prove for five days,' says the Hoxtonishly bearded owner, 'a much better result.' He's so very right.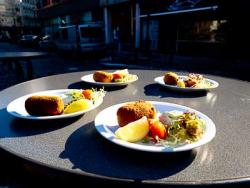 A quick stop at Noordzee where the Belgian delight of shrimp fritter is served straight to you on the street, its deep fried heat smoking the air as you greedily shovel it in, and I am heading off to the Eurostar terminal to be whisked back in London in time for a late supper. A day isn't enough to get the full flavour of Brusselicious 2012 but it is at least a nice taste.
---
Brusselicious has its own website with full details of the year's activities
Eurostar run regular services from London to Brussels. Average journey time of 2hrs 20 mins and returns from £69 with hotel and train deals starting from £99 pp. Go to www.eurostar.com to find out more.
Wittamer Place du Grand Sablon 6&12 Brussels
Charli Boulangerie. 34, rue Ste-Catherine 1000 Brussels, Brussels
Champigros Rue Sainte-Catherine 36 1000 Brussels
Noordzee 45, Rue Sainte Catherine, Brussels 1000,
Dandoy Rue au Beurre 31 Brussels