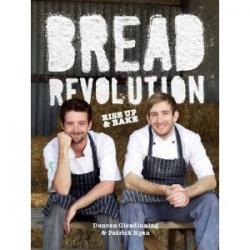 I love making bread, I love the way I can cover every available surface in flour without apparently trying, I adore the effort of trying to get the proving dough into the airing cupboard, along with the growing sense of despair when the bread fails to rise, and finally I love the house brick that emerges from the oven a few hours later all ready to be tossed into the bin.
So maybe I do need a revolution and perhaps Glendinning and Ryan are the boys to do it. They have won awards all over the shop and their breads can be found in top restaurants too. This book is packed full of clear advice, cheerfully set down on how to be, if not a Master Baker, at least a successful one with a fine crust to your name.
The style is a bit jejune; all arrows and notes and whimsy, but you can grit your teeth and read through that and get to the important stuff. The recipes are certainly all tempting, going beyond the bread itself to what you can do with it: Steak Sandwich with Sweet Onion Relish, Lime and Coriander Crayfish Bagels and Croque Monsieur, for example. There's even a recipe for Bloody Mary and ideas for using stale bread as breadcrumbs too.
As for the breads, well what's not to like? Nettle and chive bread. cheese loaf, focaccias, hot cross buns, sourdough loafs and many more. Once you've mastered the basics, as laid down at the book's start you can start to be as creative as you like.
The only thing that did concern me, and I say this as a certified useless baker, was the yeast advice. The boys recommend the same quantities of dried yeast as fast action yeast, but I've always found other recipes treat them as different and the quantity used differs too. Anyway, with fresh yeast so cheap and easy to buy, you can even freeze your surplus, there's really no need to use anything else.
There are plenty of tips on kneading (my tip, get a machine with a dough hook unless you want arms like a shot putter), as well as a checklist for post-disaster that explains what kinds of fails you may see and what you did wrong to deserve them.
With so many ideas for breads and meals, as well as some pretty tasty photography too, The Bread Revolution will have you waving a flag at the barricades and driving back the oppressive hordes of sliced white breadism and their running dog lackeys, the subwaybunists. Power to the people, right on.
{ISBN:174266668X}