War is over, if you want it. Nick goes underground to discover new 40s themed wine bar, Cahoots in Soho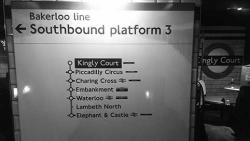 Sad to say I actually remember the original Bakerloo line train carriage that's mocked up in new Soho underground cocktail bar Cahoots. That's not because I remember the immediate post-war period, I'm not quite that old, but those carriages were still running well into the 1980s.
It's a very good mock up, the whole bar is like the best kind of museum; one where you can touch all the exhibits and get drunk too.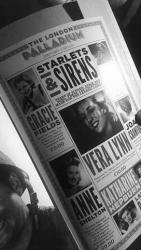 You don't want to touch the staff though, that's probably illegal, but they are accurate fakes too. Dressed for the period, and never flinching from their back-story, they animate the space and fuel the illusion that the war has recently ended and London's population is gradually emerging and having fun again, especially with rationing over. And it seems enterprising people really did use old Tube stations to throw parties after the war
The cocktail list is large, and the cocktail menu a substantial piece of print to hold. Ironies and witticisms abound, as do strange drinking vessels like old mugs, hip flasks, vintage milk bottles and tins as well as a china rendition of Vera Lynn's head. She sang a famous song in the war about rationing called'Whale meat again'. You must have heard of it?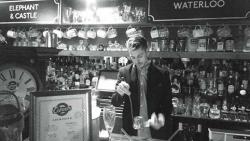 Entry is a bit of a game; we went down an'escalator', made up of the old wooden slatted treads that again were still in use when I was a lad. First timers are greeted at the entry ticket kiosk and asked which station they wish to travel to and issued with a special one trip ticket that lets them in the staff service entrance.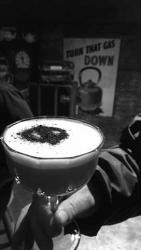 Regulars to Cahoots get a special'season ticket' that unlocks the service door directly. So it's all a lot of fun and the cocktails certainly not dull and pam fritters are served for those hungry for more than nostalgia.
If you're wandering around Soho and feel like something a bit different then Cahoots should be just the ticket.
13 Kingly Court, London, W1B 5PW
OPENING HOURS: Monday – Wednesday: 5pm-1am Thursday – Friday: 5pm- 2am Saturday: 7pm-3am
@CahootsLondon