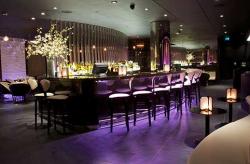 STK London has launched a new menu of small plates and cocktails, named the 777 menu as it features seven dishes and seven drinks priced at £7 each.  Clever eh? I thought at first it involved jet airliners.
The 777 menu is offered in the bar at STK between 5pm to 7pm every Monday to Friday and features cocktails such as the STK Martini, which I was told is served exactly the same in any STK bar in the world. This must be handy for the international businessman. Where am I? It doesn't matter.
There are also the Paddington Bear, Thyme & Blueberry Collins plus Penfolds wines by the glass. We tried all of the cocktails, because we are professionals, and found them all rather good, if a bit lacking in alcoholic punch. It may be the case that J and I are now just alcoholics who need the stuff mainlined to have any effect.
The 777 dishes are made up of some of the main menu starters; I remember enjoying the Prawn Krispies very much when we reviewed STK  soon after it opened, plus others. This evening we had theSTK Lil' BRGs which were Wagyu, thank you, and squid deep fried and with coconut which was a bit soggy but I told them, so hopefully it will be improved. The power of the press.
There's also tuna tartar, salt beef brisket, and watermelon & feta salad on offer and all served exclusively at the bar or in the lounge area so all very casual and easy.
STK is a place for smart people, as in dressed smart I doubt Stephen Fry will be dropping in that soon, with international glamour and the sense of style you expect. A place to drop a few quid very quickly.
But with these 777 prices it's a good way for those of us not loaded to feel a bit special, albeit only until 7pm when we turn back into pumpkins.