Is Galvin at Windows still well above its competitors? Nick goes back after a few years to see what his 'view' is now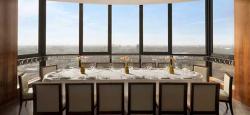 Just a relatively short time ago Galvin at Windows dominated the skies. Seated, if you were lucky, 28 floors up at one of those eponymous windows you could smugly look out across London without ever worrying that someone might be looking back. Today quite a lot of restaurants have poked their heads up into the clouds to offer rival dining experiences, but Windows hasn't drawn down its blinds.
The room still looks the same since my last visit some four years ago and the excellent Fred Sirieix, general manager and TV star, still glides around the room making sure every guest feels special even those that can't be in the best seats. And speaking of that, the window tables seat two people opposite each other so that one gets the view and one doesn't, surely it would be better to rotate the compass point so that both sit sideways to the glass?
Tonight the restaurant is pleasantly busy with people, who from their language are presumably hotel guests, plus London couples and groups having a treat. And it is a treat to be up here, P is purring with pleasure being at, she says,'somewhere special'.
Head Chef is now is now Joo Won, who came up through the kitchen ranks here and so brings continuity, as well some new dishes to go with the old. The menu at a set £70 a head is short in length but broad in coverage so that few people will find it hard to find something they fancy.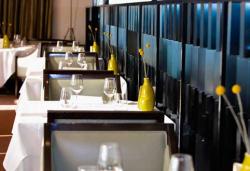 First as this is Michelin Star dining, it's all napkins and champagne and crisp olives, fine warm breads and amuse bouches, just as it should be at this level (sic). Service is smooth without being snooty, the glasses being topped up as necessary and not constantly.
Kicking off with'seared Scottish scallops, white onion purée, sea vegetables and shellfish bisque' I was immediately rhapsodising over the bisque. This had an intensity of flavour that only comes from expert, careful reduction of quality shellfish and of course any heads and skins they came with. On its own it would have been perfect, but with scallops poached, one presumes, in the bisque and the crunch of samphire plus the smooth puree, it had textures and cross flavours too. I wiped the bowl out with bread, which may have been a bit uncool in the environ but was very necessary
Some people get a bit upset about foie gras, but if you do like it and don't want to call PETA on restaurants that serve it, you'd have liked P's;'ballotine of foie gras, marinated prune, orange purée and pain d'épice'. I find pain d'epice too sweet for my taste but the foie was heavenly and that prune/orange combo was according to P, the finest thing for a foie marriage ever.
The gap between courses is always a bit of an unknown quantity in many restaurants I find, but Windows is a well-timed machine. We were only just running out of conversation when mains glided over, meat for me fish for the lady.
I had to have'roasted cutlet of Ibérico pork, carrot & cumin purée, cavolo nero, crispy pig's head & jus diablo' as soon as I saw it. Ibérico pork is just so out there in the flavour stakes.'It will be cooked pink' warned the waiter. I assured him I had my pocket probe thermometer with me and as long as it was over 69C I'd be happy. He looked like he believed me, for a second.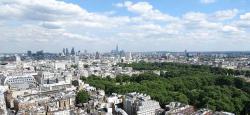 The cutlet was pre sliced, with one piece retaining a bone to remind you of its provenance. I liked this, as tackling a whole cutlet can result in sudden fork slides that redecorate the tablecloth. It was perfectly cooked; overcooking pork is a sin at the best of times but mucking up Ibérico should be a capital offence.
The pigs head meat had been rolled in filo'crispy' tube and shot through with cumin, a good foil for the moist meat. I always like cavolo nero's steely tang and it went well with the sweetly earthy carrot puree and the jus. Not many chefs know how to make a classic jus, it's a skill that was once basic but now it's often seen as old-fashioned. For me it says a lot about a chef.
P had landed a'sea bass with braised chicken oyster, fennel puree, baby fennel, onion gel and monks beard and spices jus'. I didn't taste it, it would have pulled me away from my pork, but the general impression I got was of happiness. The aniseed of fennel is a winner with white fish; you don't want to drown a sea bass. The chicken oyster just enough of a texture contrast apparently. There was mild complaint about over salting; I dismissed this at the time but later we were both very thirsty so perhaps so.
Dessert was classic French, the sort of thing you don't get in France anymore'Caramelised pear tarte tatin & Tahitian vanilla ice cream'. Crispy light pastry, firm yet thoroughly cooked pears. The vanilla was heady; those Tahitians grow excellent vanilla with an unique floral aroma. I know this because a friend once brought back some from holiday and the house smelt wonderful for days.
Rum Baba got a bad rep for a while; synthetic booze, stodgy cake and with a foul ersatz cherry on top. Needless to say this'Rum baba, golden raisin compote & crème Fontainebleau' was nothing like that but rich and light in equal measure and really sinful in the best way.
So is Galvin at Windows still'up there'? I'd say yes. You can get food on the same level for a bit less but the wow factor is well worth the extra.