A pizza so hot you need asbestos lips to eat it? Sounds like a challenge and it's one that Nick is quite prepared to rise to even if he daren't sit down after.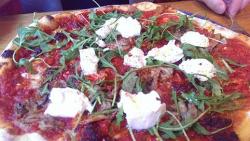 'So, is it hot then?' asks J, pausing his first slice halfway to his mouth and studying my face closely.'Well it is a bit lively,' I try and say insouciantly but the connections between brain and vocal chords seem to have been severed so I mime instead.
Something seems to be happening to the room, the walls have gone to a classic vanishing point and J looks like I'm viewing him through a fisheye lens. A voice in my head is yelling in panic but a strange sort of detached calmness has come over me.
And I only came in for a pizza.
Mayfair Pizza Co have created what must be one of the hottest pizzas in the world. Available from now until the end of April, it's made with fresh tomato and'Christ On A Bike' sauce spread on a homemade base and topped with 'Nduja Italian sausage and spicy pork rib. Dried chilli flakes and smoked jalapeño powder are added alongside mozzarella and fresh scotch bonnets.  Finally, the pizza is finished with burrata, peppery rocket and a drizzle of'For The Love Of God' hot sauce.
Well we had to try it, especially after hearing that some tabloid journalist only made it to two slices before throwing in the napkin. Seriously? One can easily imagine some soft-handed Guardian journo wimping out but not a battle-hardened tabloid hack. What has happened to the press in this country?
Of course Brits have a bit of a rep with chili. Once upon a time curry houses in the suburbs would resound to the shouts of post 11pm Brits demanding the hottest curry the place could provide. And then after three mouthfuls they would collapse insensible while their mates partied on.
What is surprising about this pizza is that is actually very tasty. The Nduja is lush and the pork rib very good indeed. First you get all the flavour, and then comes the burn cooled slightly by the burrata. Take it slowly and it's bearable – just.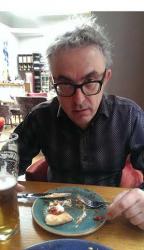 J decides that the main killer is the Scotch Bonnet, so scrapes some off a slice. I try the same and he's right. Cranked down a notch the beast is semi tamed.  'I feel like my eyes have been dry-cleaned,' says J after another bite,'everything seems sharper.' We decide this is a result of over-stimulated tear glands washing our peepers of London dirt.
We alternate slices of this pizza with a mild, inoffensive Truffle & Porcini Mushroom, Buffalo Mozzarella, Chopped Truffle, Parmesan, Truffle Oil pizza, which is a good counterpoint. It gives us a chance to check out the pizza base, which is just how I like it being crispy edged with some blackened burning and stiff enough at the centre to give you enough time to flip the'point' back over itself before passing onto mouth.
We don't, I have to admit, quite finish the fiery pizza; even with big glugs of West Country lager we can't do it. We leave a small slice. But it's more a result of eating too much of the other, plus starters, we're actually full.
Full marks to Mayfair Pizza Co, the fiery pizza isn't just a Man V Food gimmick, a pointless plate of hot sauce to be fed to an already dangerously sweaty American. It's actually a very good pizza in itself and if were them I'd keep it on the menu all the time for those of us that like it a bit hot and tasty. Oh and yes we heard all the jokes about putting some loo rolls in the fridge before eating. Without being too specific, don't worry. It's not hotter out than in.
Mayfair Pizza Co. 4 Lancashire Court, New Bond Street, London W1S 1EY www.mayfairpizzaco.com
.